Posted on
Bulldogs Enjoy Success At Divisional Track Meet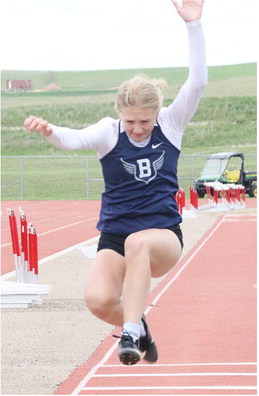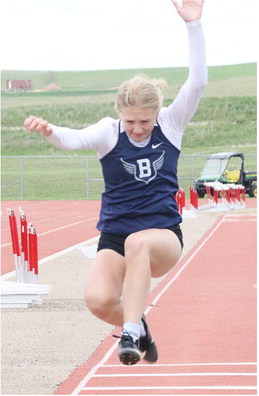 The Bainville Bulldogs enjoyed some outstanding performances during the Eastern C divisional track meet on Thursday, May 18.
Bainville placed fifth in the boys' standings with 48 points and 10th in the girls' standings with 19 points.
Hailey Berwick earned the divisional championship in the long jump with a school record distance of 16-8. The old record was 15-9 by Teresa Pacovsky in 1976. This is the second school record that Berwick has set this season. She earlier established a new school record in the 400-meter dash.
Elsie Wilson earned fifth in the 100-meter hurdles at 17.6 seconds and fifth in the 300-meter hurdles at 52.14 seconds.
Miah Pippenger placed fifth in the shot put with a mark of 30-11.
Berwick finished fifth in the 400 with a time of 1:03.71.
Brecklyn Pippenger took sixth place in the javelin with a best of 102-11.
The 800-meter run was a great highlight for Bainville's boys' team.
Reese Harmon won the divisional title in the 800 with a time of 2:16.38. Ayden Knudsen placed second at 2:16.94 and Kaiden Holmes earned third at 2:18.23.
Charles Butikofer took third in the high jump by clearing 6-0 and third in the javelin with a mark of 140-4.
Samuel Butikofer cleared 5-8 for fourth place in the high jump.
Carter Winn finished fourth in the 300-meter hurdles with a time of 47.52 seconds.
The 1600-meter relay team of Winn, Harmon, Knudsen and Holmes finished fourth at 3:51.47.