Posted on
Norven Dennis Langager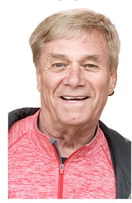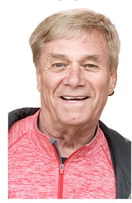 On Wednesday, May 3, 2023, we said goodbye (for now) to "Denny." We are heartbroken and numb but also comforted as we reflect and reminisce with one another about the unforgettable times and years that we had with him.
Norven Dennis Langager was born in Pasadena, Calif.,, on March 24, 1946, and grew up in Wolf Point, Mont. He graduated from Wolf Point High School and Eastern Montana College and served in the U.S. Army.
Once his Army service was complete, he worked as a radio announcer and then began his career in the bulk fuel and trucking business. He was a licensed real estate agent and insurance agent and owned an old-time photo business. He also worked in the automobile industry as a car salesman and finance manager.
When Denny retired, he resumed his love for writing poetry and began volunteering at the Billings Montana Temple. Over the years, Denny enjoyed golf, hunting, cooking, live theater, reading, writing poetry, traveling, music and singing, art, photography, outdoor walks, National Parks and historical sites, spending time at Fort Peck, going to movies and attending various sporting events. He was looking forward to the upcoming Mustangs baseball season. He was a collector of coins and objects. He loved the opportunity to serve others through decades of church callings and LDS temple work.
Denny and Rita were married for 39 years and together for 41. His children and grandchildren were so very important to him. He enjoyed attending their sporting events and simply just spending time with them. He was incredibly close to his siblings and looked forward to the family get-togethers and his weekly breakfasts with his brother, Harvey; and friend, Freddie.
Denny had many extended family members that were very special to him. He also made so many dear friends over the years that were important to him. We are sincerely grateful for all of you and for your love and support over the years.
Denny loved and lived his life to the fullest and did it "his way."
Denny was preceded in death by his parents, Norven and June Langager; sister, Carolyn Langager Keller; granddaughter, Olivia Jane Langager; and half-brother Robert Machart Sr. He is survived by his wife, Rita; son, Jason (Shannon) Langager; daughter, LaQuita Zilkoski; son, Mike Lett; brother, Harvey Langager; and sisters, JoAnn (Steve) Booth and Tana (Rich) Mayo; and seven grandchildren: Navarro, Zynan and Drake Zilkoski; and Evalynn, Jackson, Collin and Ava Langager.
Until we meet again, we will remember the influence and significant impact you have had in all of our lives.
We love you Denny.
(Paid Obituary)