Posted on
Wolves Place At Top 10 Meet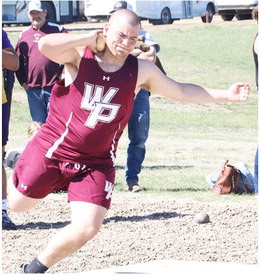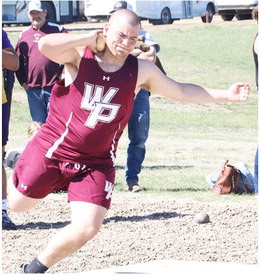 Three Wolf Point athletes placed during the annual Norm Girard Top 10 track meet held in Glasgow on Tuesday, May 2.
Katelyn MacDonald, a senior, earned second place with a best of 118-7 in the javelin. Taking first was Whitewater's Paige Wasson at 1240.
Peyton Summers, a junior, ran an excellent race and earned second place in the 3200-meter run at 9:52.86. It was a personal best time for Summers. Havre's Caleb Tomac took first at 9:48.22.
Juliun Benson, a senior, finished fourth in the 400 with a time of 52.61 seconds. Lustre Christian's Jasiah Hambira earned first at 51.77 seconds.
Highlights for Poplar included Jazmyn Carrywater taking sixth in the 3200 at 13:10.54. Taking eighth were Adrien Matuck in the long jump, Reinita Irizarry in the 3200 and Bailey Dupree in the 300-meter hurdles.
Page
Wolf Point's Charles Page battles during the Top 10 meet in Glasgow.
(Photo by Bill Vander Weele)