Posted on
Poplar Comes Away With Third Place At Wolf Point Track Meet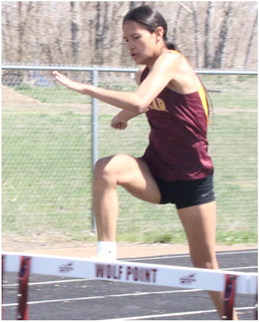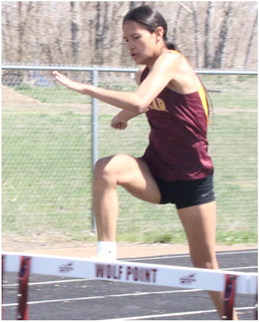 The Poplar's girls' track team struck for 51 points to take third place at the Gene Nelson Memorial meet on Friday, May 5.
Poplar's girls scored 51 points in the meet. The top two teams were Scobey at 136.5 and Baker with 81 points.
Poplar's boys earned 32 points for sixth place.
The Poplar girls' 1600-meter relay tam of Jazmyn Carrywater, Bailey Dupree, Mattie Falls Down and Reinita Irizarry finished second at 4:53.63.
Individuals placing second were Carrywater in the 1600 (6:06.20) and Falls Down in the 3200 (14:37.95).
Irizarry earned third in the 1600 at 6:15.67 and Falls Down took fifth at 6:53.29.
Dupree finished fourth in the 100-meter hurdles (18.93) and 300-meter hurdles (52.64).
Blake Follette took fourth in the 800 at 2:48.49 and Irizarry finished fifth at 2:52.80.
Kessee Erickson placed fourth in the discus at 96-6 and sixth in the shot put at 28-1.
Wilder Bearcub led Poplar's boys by earning second in the 800 at 2:20.23. Raylando Red Eagle finished fifth in the race at 2:28.95.
Miles City placed third in the 3200 at 11:50.41 and fourth in the 1600 at 5:33.32.
Cameron Spotted Bird earned fourth in the discus with a best of 99-6.
Taking fifth were Red Eagle in the 1600 at 5:33.37, Walker Burshia in the shot put at 36-2 and Eljin Grey Bear in the 3200 at 12:51.65.
The 400-meter relay team of Burshia, Zane Dupree, Finesse Headdress and Cameron Spotted Bird took fifth with a time of 56.8 seconds.
The Indians will compete at the District 2B meet in Glasgow on Saturday, May 13.
Dupree
Poplar's Bailey Dupree competes in the 300-meter hurdles at the Gene Nelson Memorial meet.
(Photo by Bill Vander Weele)