Posted on
Teamwork Key For School District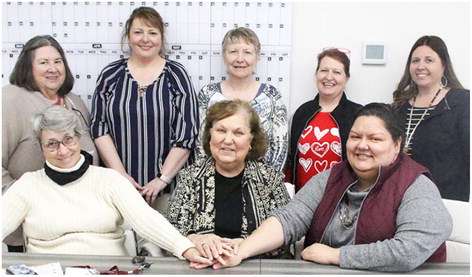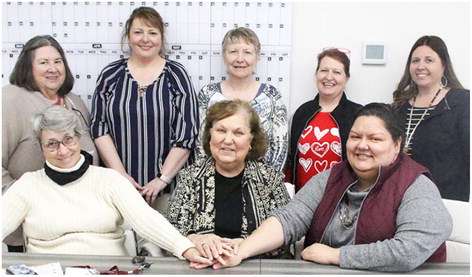 If the saying it takes a village to raise a child is true, it must also be accurate that it takes a team to run a school district.
The Wolf Point School District office and school administrators explain that a successful and smooth path occurs when officials are working together.
"I like to be on a team environment," superintendent of schools Eileen Karge said. "I feel if we collaborate with stakeholders then we have a better solution and buy-in."
Karge describes her main team as principals Kim Hanks, Georgie Gourneau and Tara Thomas, clerk and business manager Cheri' Nygard, federal projects director Naomi Erickson, payroll/claims clerk LaRae Hanks, payroll/claims clerk Stacey Traeholt and consultant Susan Brown.
One example that Karge provided of working together is the summer school program where teachers provided input to her. Karge and other school officials then revamped the suggestions. After that, Erickson was able to give information about how much federal funding would be available.
"While working as a team, we need to keep in mind the policies, procedures and mission of the district," Karge said.
The school district's mission statement reads, "In partnership with the community, Wolf Point Schools will create a positive teaching and learning environment to ensure that every member of the school family reaches academic achievement as set by local, state, tribal and federal standards. We are determined to utilize comprehensive school-wide research based strategies to assure this outcome."
As elementary school principals, Gourneau and Thomas work closely together when planning some projects.
"Tara and I do everything together," Gourneau said.
The principals said that they, along with high school/junior high school principal Hanks, exchange ideas and communicate well. One example was developing a math curriculum for grades K-12.
"It's a good relationship," Thomas said.
She noted that working together is very highly valued based on academic research.
In the district office, staff members find that working as a team brings positive results.
"Everybody works with everybody else and their information," Brown explained. "We communicate great. What one doesn't have, another does. We mesh together."
Traeholt added, "We help guide each other."
Nygard and Erickson said that usually everybody in the office touches every piece of paper that is going to be filed.
"We all work together because our jobs overlap," Nygard said.
Hanks noted, "We all can pretty much pick up the slack if somebody's gone."
For example when Traeholt and Hanks are working on payroll, they need to be in close contact with Nygard when salaries are being paid and Erickson when grants are involved.
Another example is requisitions that need to be coded and go through the process before being approved. They deal with principals on a daily basis, another example of overall team work. "Every piece of paper that comes here, goes through everybody's hands," Nygard said. "It's a very busy office. We have a lot of paperwork."
They also need to have good relationships with other areas of the school district including transportation, custodial and kitchen.
"That's what I like about this job," Erickson said. "It helps everybody. It's a lot of variety."