Posted on
100th Stampede Auction Set For May 5 At Elks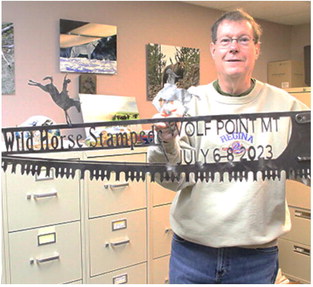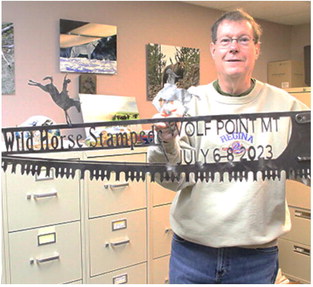 More than 20 items will be available during the "Saddle Up and Open The Chutes For the 100th Wolf Point Wild Horse Stampede" auction at the Elksvent Center on May 5.
Funds from the auction will be used to help pay for some of the fun activities on July 5-8 for the centennial Wolf Point Wild Horse Stampede.
The event begins at 6 p.m. with Mexican flavor snacks. The auction will start at about 7 p.m. There is no admission cost.
Organizer Jerald Petersen is excited about the high quality of auction items that include four beautiful paintings. Clint Long has donated several great items.
The Wolf Point Lions Club donated a bronze by artist Ken Martin that was owned by the late Lion Dr. Mark Listerud. It is the last of several bronzes donated to the Wolf Point Lions Club.
Artist Ross Sansaver has donated a wooded hat and coat rack.
Artist Wade Krauth of Rough Cut Creations donated an outstanding metal saw commemorating the 100th Stampede.
Lynn Ediger of the Lustre area has provided two beautiful painted rocks.
Another interesting item is the 75th belt buckle from the 75th annual Wolf Point Stampede.
Pedersen said the night will also feature several nice bucket prizes.
"The community and businesses have really come out with some nice prizes," he said.