Posted on
Gianforte Discusses State Budget, Law Enforcement At Press Conference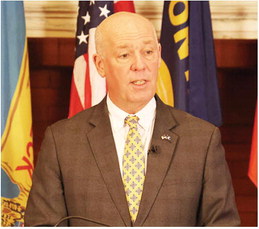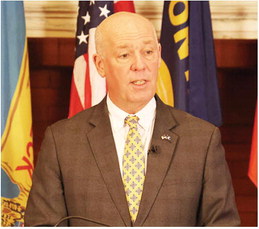 Montana Gov. Greg Gianforte stressed the need to increase law enforcement in the state during a press conference held on Thursday, April 13.
The governor said violent crimes are up in Montana and confiscations have increased by nearly 11,000 percent since 2019.
"Law enforcement is stretched thinner that they ever have been before," Gianforte said.
He proposes to fund five new highway patrol troopers, four new human trafficking agents, three new major case investigators, three new narcotics agents, and seven attorneys, including prosecutors, at the Montana Department of Justice.
"We are acting to crack down on criminals including those pushing dangerous drugs into our communities," Gianforte said.
The governor is also proposing a $300 million generational investment in a behavioral health system. Gianforte said he is hopeful that legislators lead with a plan that will improve patient services and better secure the safety of patients and providers.
Also during the press conference, Gianforte said his budget is pro family that includes tax cuts for hard-working Montanans. He noted that New York's annual budget deficit is projected to grow to $6 billion by 2027. California is looking at an annual deficit of $22 billion.
"Taxes and reckless spending bring disastrous results," Gianforte said. "Higher taxes mean less job creation and opportunity."
The governor added, "Montana taxpayers entrust us to be good stewards of their hard-earned dollars, and I'm proud that our budget made for Montana families fulfill that trust."
Gianforte says the budget provides tax relief to Montana taxpayers at every income level. "It's balanced, holds the line on new spending and avoids cuts to essential services."