Posted on
Bainville, Culbertson Compete At Scobey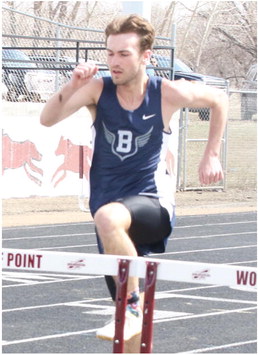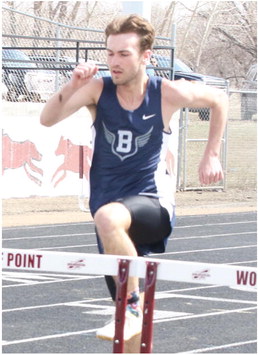 Track teams from Bainville and Culbertson were among the competitors at the Scobey Invitational held in Wolf Point on Saturday, April 15.
Bainville's boys took seventh in the team standings with 28 points. Bainville's girls placed seventh with 22.5 points.
Top boys' squads were Lustre Christian with 108 points, Plentywood with 95.5 points and Wolf Point with 83 points.
Bainville's Charles Butikofer earned top honors in the javelin with a mark of 1350. The junior added a thirdplace showing in the high jump by clearing 5-10.
Ayden Knudsen also had a solid day for the Bulldogs. The senior finished third in the 800 at 2:18.91 and fourth in the 1600 at 5:36.16.
Carter Winn finished fifth in the 300-meter hurdles with a time of 51.21 seconds.
Other highlights for the Bulldogs include Rowan Wilson taking ninth in the 1600 and Butikofer taking 10th in the shot put.
Leading the girls' standings were Scobey with 146, Plentywood with 125 and Whitewater with 79 points.
Bainville's Hailey Berwick, a freshman, finished third in the 100 with a time of 14.09 seconds.
Elsie Wilson cleared 4-6 for third place in the high jump. The sophomores placed fifth in the 100 at 14.26 seconds and sixth in the 100-meter hurdles at 18.69 seconds.
Also in the top 10 for Bainville's girls were Miah Pippenger in seventh for the shot put and javelin, Addison Hansen in seventh for the discus, Berwick in seventh for the long jump, Wilson in eighth for the 300-meter hurdles and Kendra Romo in ninth for the discus.
A short-handed Culbertson team scored 12 points in the boys' division and a point in the girls' division.
Payton Perkins earned top honors in the shot put with a best of 41-8.
Bridger Salvevold finished seventh in the 3200 at 12:30.83.
In the girls' division, Alicyn Ator placed eighth in the javelin with a mark of 81-3.
Teams will compete at the Savage Invitational on Thursday, April 20.