Posted on
Major Injuries Avoided In Bus Accident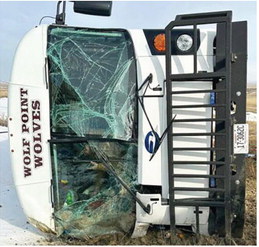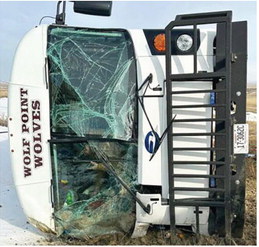 Wolf Point school officials are grateful that an accident involving the activity bus carrying the girls' tennis team wasn't more serious than it was on Saturday, April 1.
Principal Kim Hanks and activities director Eric Peterson said it appears that students didn't suffer any major injuries but rather mainly "bumps and bruises." They weren't sure of the extent of injuries to one girl on Monday morning.
School officials thanked Northeast Montana Health Services staff for the medical care, parents at the scene and coaches Dan Horsmon and Nichole Paulson for their character during the incident. School counselor Erin Loendorf was available to provide support.
They said they are also thankful of having Shawn Boysun as an experienced bus driver. Reports are that the bus was forced to pull over a bit to make room for a semi-truck after crossing a bridge at a narrow piece of Montana Highway 253 north of Terry.
"He wasn't going very fast," Peterson said.
The bus was totaled. The school district now has only two cruiser buses. Teams might need to utilize yellow buses to attend events.
The Wolves are scheduled to host a tennis meet against Chinook on Thursday, April 6. Poplar might also take part in the action. If any or all of Wolf Point's players will compete was uncertain as of Monday.