Posted on
Governor Urges Continued Progress On Budget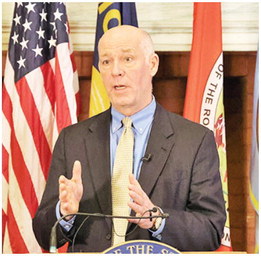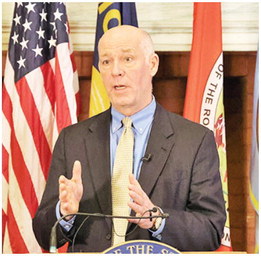 Gov. Greg Gianforte urged continued progress on his Budget for Montana Families and commonsense, pro-housing reforms to make housing more affordable and attainable for Montanans during a press conference last week.
"Together, let's keep moving forward on Montanans' priorities. Let's continue opening the doors of greater opportunity so more folks can prosper," Gianforte said. "Ultimately, Montanans sent us to Helena to address their priorities, help them thrive, and make it easier for them to achieve the American dream. Let's get it done."
Gianforte urges passage of HB 825 to fully fund the HOMES program. Last summer Gov. Gianforte stood up a diverse, bipartisan Housing Task Force to provide recommendations to make housing more affordable and attainable for Montanans. During the press conference, Gov. Gianforte highlighted one of the task force's recommendations he adopted into his Budget for Montana Families, the Home Ownership Means Economic Security (HOMES) Program.
Carried by Rep. Mike Hopkins, R-Missoula, in HB 825, the HOMES program invests $200 million to expand water and sewer infrastructure and ultimately increase the supply of affordable workforce housing.
"Let's get the HOMES Program across the finish line so we can increase the supply of housing – and get more Montanans into an affordable home of their own," Gov. Gianforte continued.
Gianforte also praised several other pro-housing reforms before the legislature, including SB 382 carried by Sen. Forrest Mandeville, R-Columbus, SB 258 introduced by Sen. Greg Hertz, R-Polson, SB 245 sponsored by Sen. Daniel Zolnikov, R-Billings, and SB 323 carried by Sen. Jeremy Trebas, R-Great Falls.
The governor also called for continued action on various elements of his Budget for Montana Families in the press conference.
"Montanans are counting on us to be good stewards of their hard-earned dollars, and our Budget for Montana Families delivers," Gianforte said. "After returning $1 billion to taxpayers, we're using our surplus like any Montana family would – paying off our debt, repairing what needs fixing, and saving for a rainy day."
To repair critical state infrastructure, the governor pointed to his proposed $300 million, generational investment in the state's behavioral health care system and state hospital, in HB 872, and $200 million investment to repair and expand capacity at the state prison, in HB 5.
The governor also emphasized the importance of more than doubling the state's rainy day fund, in HB 424, and establishing the Local Disaster Resiliency Fund, in HB 269.
"These investments are critical to the health and safety of Montana families and communities throughout the state. Let's get it done," Gov. Gianforte said.
Before taking questions, Gov. Gianforte urged legislators to move on his bills to invest in stronger families with an adoption tax credit and child tax credit, safer communities with full funding for new highway patrol troopers, prosecutors, and criminal investigators, and property tax relief for lowand fixed-income Montana homeowners.