Posted on
Young Readers Reaching Success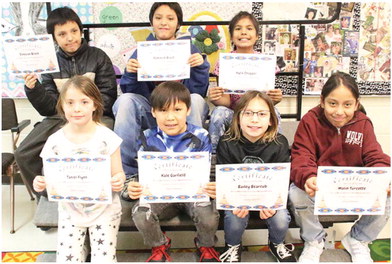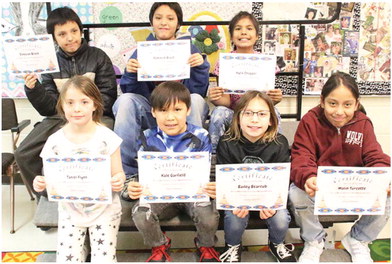 The Southside Elementary School's after-school program achieved a notable landmark last week when seven students reached their grade level for reading.
A brief ceremony was held on Tuesday, March 21, to salute the young readers. Students earning praise were Kylee Choppper, Donovan Brock, Dominick Brock, Malin Turcotte, Bailey Bearcub, Kale Garfield and Taniel Flynn.
"You kids did something really awesome," Southside Principal Tara Thomas said.
She thanked the parents for helping the students reach the level in just three weeks of the after-school program.
"They couldn't have done it without your support," she said.
Thomas was excited that the first group of readers achieved the desired level.
"It gets us closer to get where we need to be," Thomas said.
The principal said her goal is to get 40 percent of the students reading at their grade level by the end of the school year. Currently, only 25 percent of the students are at the desired level.
The after-school program started during the final week of February.
"It's designed for kids to reach their grade level," Thomas said. "By the end, we're hoping to improve a lot of kids to go up a grade level."
The after-school program begins with each of the students enjoying a healthy snack. The program is for students in grades 1-3.
Thomas said learning-loss funds from COVID are being utilized to cover expenses.
The Roosevelt County Library staff will come once a week to provide insights. Fort Peck officials will offer cultural insights once a week.
"There are a lot of different entities working together," Thomas said.