Posted on
Jeanne Boulds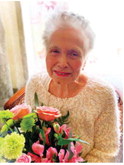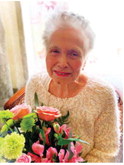 Jeanne Carol Boulds, age 94, of Poplar, passed away Sunday, March 12, 2023, peacefully in Red Lodge, Mont., surrounded by family and in the care of her daughters, Dolores and Barrie, who were her caregivers the last three years of her life.
Jeanne was born Aug. 11, 192, in Westby, Mont., to Elmer and Esther (Andersen) Bergh. She was delivered at home by her grandmother Kirsten from Copenhagen, Denmark. She was the middle of three siblings. As a child, Jeanne spent time in the Minneapolis Shriners Hospital for Children in casts and in surgery due to being born with club feet.
Jeanne grew up in Westby, Mont., until a few years after her father's death at age 11. The family then moved to Vancouver, Wash., in the early '40s to work in a fruit canning factory to support World War II efforts and Jeanne also volunteered at the Barnes General Hospital visiting and helping with the war veterans there.
The family made their way back to Montana after the war and Jeanne graduated from Plentywood High School in 1946. She worked at the soda fountain counter at Plentywood Drug. She met the love of her life at a dance at the Blue Moon in Plentywood, and they wed less than a week after her 18th birthday. She wed Raymond "Johnny" Boulds Aug. 17, 1946, and they were married for 58 years until his death. Out of this union, they were blessed with 11 children. The story goes that Dad saw Mom through the window at Plentywood Drug and told his sister Mona that he was going to marry that girl. He was smitten with Jeanne from first sight and for the rest of his life.
After Ray's graduation from pharmacy school in Missoula, the family finally settled in Poplar, Mont., where they owned and ran Boulds Drugstore together for 56 years. Jeanne was the bookkeeper and president of Boulds Drug, Inc.
Jeanne played piano and had a beautiful voice and sang for many weddings, funerals, special events and for her family. She volunteered many years for chamber events, as an election official, at the America Legion Club and Wild West Days. She won trophies for bowling and liked to meet with the Lutheran ladies for cards and coffee. She sewed and canned food from the family garden.
She enjoyed road trips, traveling to visit family, and vacations. In her later years, her and her daughter Dolores would take little road trips to get her hair done, play cards and have lunch at the café. She enjoyed daily crosswords and loved to play scrabble and won almost every game. Even though she was not quite 5' tall, she was a spitfire and the rock of the family. She never forgot a birthday or an anniversary and loved her grandchildren immensely. She cared for her family her whole life and never turned away any of her children in need. She loved her family unconditionally.
She is survived by her 11 children: Muriel (Russell) Smith of Texas, Aileen Edwards of Billings, John and Mike of Poplar, Donna (Robert) Ranf of Missoula, Patricia (John) Toavs of Wolf Point, Laurel Boulds-Fisk of Washington, Raymond "Jeff" of Nevada, Robert (Rachel) of Utah and Dolores and Barrie of Red Lodge; 24 grandchildren; 33 great-grandchildren; 12 great-great-grandchildren; and many cousins and friends. She is survived by her favorite puppy, Lola, who was by her side for 14 years.
Her husband, parents, sisters, Mildred and Barbara, preceded her in death.
A private burial and graveside services will be held Saturday, Aug. 5, 2023, at 11 a.m. in Plentywood. In lieu of flowers, we ask that you please donate to the Shriners Hospitals for Children, a non-profit near and dear to Mom's heart, at https://donate. lovetotherescue.org.
(Paid Obituary)