Posted on
Nicholson Provides Positive Message At Schools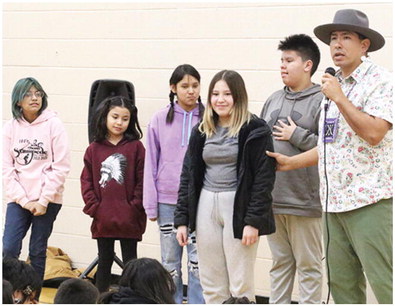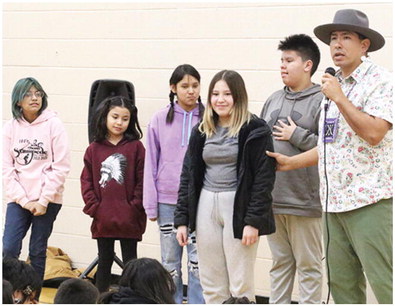 Motivational speaker Kasey "Rezzalicious" Nicholson provided inspiring messages during presentations in Wolf Point schools on Tuesday, March 14.
Nicholson, who is originally from Billings, is a wellness educator and rising comedian in Indian Country. He has earned a bachelor's degree in health and human development and a master's degree in mental health and rehabilitation.
He believes laughter is the best medicine. He is dedicated in creating positive change in tribal communities.
During his presentation at Northside, Nicholson performed a demonstration to show how important having a strong support system is for individuals who face challenges or threats. With students taking part in the program, Nicholson said he represented something negative such as drugs, alcohol, pain or fear. One student needed to be strong. The other students represented a support system that needed to protect the strong female student.
The support system could include teachers, administrators and staff at the school.
"They help you every day," Nicholson explained to the students. "They help you learn, they help you grow,?
Other examples of support system positive elements include family, police, fire, EMTs and extra-curricular activities.
"They are things out there that try to destroy the things that you want," Nicholson said. "Don't let them destroy your ambitions, goals and hopes."
He explained to students that they should learn from their mistakes and that failure happens. He noted that when a baby tries to take his first steps, he falls but doesn't stop trying.
"When someone fails, you don't beat them up for failing," Nicholson said.
He used an example of missing a layup in basketball. "When you fail, it's not bad or wrong, it's just a miss."