Posted on
Lillian Christian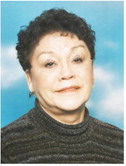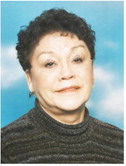 Lillian Beatrice Bruguier Christian died March 10, 2023, in Wolf Point.
She was born Sept. 17, 1932, in Wolf Point to Elsie Miller and Leo Charles. She grew up in Wolf Point as the fourth child of six children. She attended schools in Wolf Point and graduated from Wolf Point High School in 1950.
After high school, she got married and started her family. During the course of raising her family, she started her 10year career in the healthcare field as a nurse's aide at Faith Lutheran Home and Trinity Hospital. After working in healthcare, she embarked on a 48-year career with the Fort Peck Tribes. Her first job was with the HeadStart program as the health and nutrient coordinator for nine years. She then transferred to the planning department to work as the planning coordinator for three years.
She then started work with the Tribal Maintenance Department as a secretary. She eventually worked her way up to the director of maintenance and retired after 20 plus years of work there.
Retirement, however, wasn't a good fit for her. She soon went back to work again. This time, she started her career with the Fort Peck Tribes in the CHR Department as a driver and eventually worked her way up to being the program supervisor. After eight years with the CHR Department, she decided it was time for her to have her final retirement at the age of 85 years old.
She was preceded in death by her sisters, Matilda, Emily and Joyce; brother, William; sons, Desmond and Forrest; and granddaughter, Jessee.
She is survived by her brother, Forrest Bruguier; son, William Eder Jr., Eric Bruguier, Neil Tayler and adopted son, Will Morey; and numerous grandchildren and great-grandchildren.
Funeral services were held on Thursday, March 16, at the Immaculate Conception Catholic Church. Cremation followed the services. Clayton Stevenson Memorial Chapel was entrusted with arrangements.