Posted on
Elks Honors Community Leadership During Banquet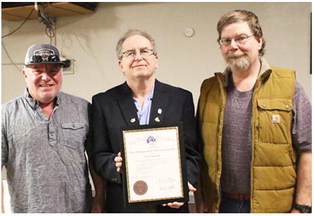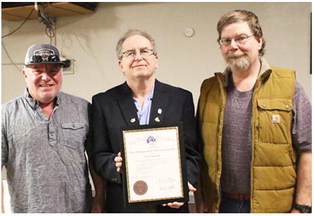 The Wolf Point Elks Lodge #1764 honored the accomplishments of several community members during its annual awards banquet on Monday, March 20.
The selection for the Citizen of the Year honor was the late Elsie Hanson. She was a charter member of the Wolf Point Optimist Club in 1992 and also helped the Glasgow club get chartered. She was very active with every event they sponsored especially Angel Tree and flowers on Main Street.
She was also known for volunteering for many hours at the food pantry. She also donated food to her neighbors.
"She brought sunshine into a room," Elks' Exalter Ruler Jeff Presser said. "A lot of us had the privilege to work with her."
Jordan Clark was the recipient of the First Responder of the Year honor. He helped saves lives in two instances, including a fentanyl overdose and a situation on the train tracks.
Louise Petersen was honored as the Elk of the Year. With the local Elks Lodge in dire need of a coordinator for the Hoop Shoot, Petersen took on the responsibility and did an excellent job.
Tim Pedersen was the winner of the Lodge Officer of the Year award. Presser noted that the Elks has been in search of a manager for quite some time.
"Tim stepped up and is keeping the place open," Presser said. "He's doing a great job of keeping it going."
Wolf Point High School seniors awarded $500 scholarships were Aaron Boysun and Rebekah Landsrud.
Bob Balbinot, Warren Evans and Arthur Loendorf were saluted as life members.
Roger Shrader is a 50-year member. David L. Matejovsky is a 25-year member.