Posted on
Wolves Lose To Loyola In Semi-Final Round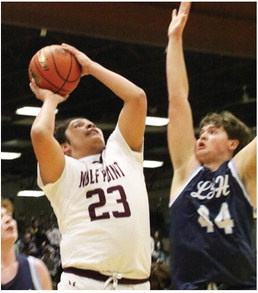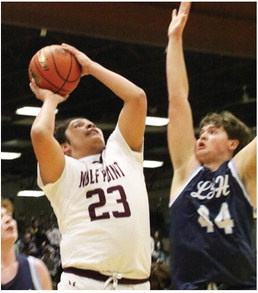 In the Class B state semi-final round, Wolf Point's boys' basketball squad was outscored by Missoula Loyola, 63-48, in Great Falls on Friday, March 10.
After falling behind by a 16-6 margin, the Wolves battled back on a three-pointer by Juliun Benson, a basket by Lennoxx Lilley off a steal by Benson and a three-pointer by Jack Kolstad to cut the margin to 16-14 with 1:16 left in the opening quarter.
A hoop by Reynolds Jhonston gave Loyola an 18-14 lead to end the quarter, and the Rams then struck for eight points to open the second period.
Three-pointers by Kelby Bauer highlighted the second quarter for the Wolves. Loyola held a 32-22 lead at intermission.
After Gaige Bushman took a charge, Bauer hit another three-pointer to pull the Wolves to 34-26 early in the third quarter. The Rams were able to increase the margin to 14 points until Benson drove in for a basket with 4:26 left in the period.
A three-pointer by Benson, a fast-break basket by Bushman and a basket by Peyton Summers put the Wolves within 10 points, but Loyola led 47-35 at the end of the third quarter.
Loyola increased its lead to 53-38, but the Wolves kept battling as a 15-footer by Bushman and a three-pointer by Bauer put the margin at 53-43 with still 4:33 to play.
The Wolves were unable to score again until Summers put in a basket off an assist from Bushman. Cade Stafne connected on a three-pointer for a 57-48 margin with 1:28 left, but the Wolves couldn't get any closer.
Wolf Point's top scorers were Benson with 13 and Bauer with 12 points. Also scoring were Bushman with six, Kolstad with five, Summers with four, Stafne with three, Kraven Silk with three and Lilley with two points.
Benson finished with 11 rebounds. Bushman dished out six assists.
Leading Loyola's attack were Ethan Stack with 21, Jhonston with 14 and Raef Konzen with 10 points.
Stack grabbed 12 rebounds. Wolf Point hit one of seven free-throw tries compared to Loyola's 12 of 22 attempts.