Posted on
Blizzard Conditions Faced Across Hi-Line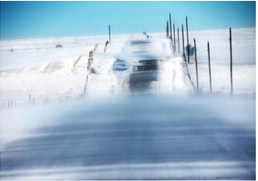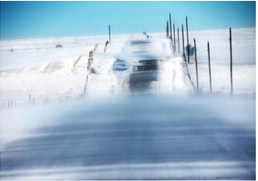 Winter weather hit northeast Montana last week, with snow and gusty winds wreaking havoc on the area.
The National Weather Service in Glasgow issued a Winter Storm Warning for southern Valley, Phillips and Roosevelt counties March 10. NWSG meteorologist Grant Hicks told the Northern Plains Independent that the blizzard was effectively over by Saturday at 6 p.m.
"We faced off with a blizzard," said Hicks. "A low pressure system moved in and formed a snow band, especially to the north. In addition to that, it brought in a lot of wind."
Hicks said winds of approximately 40 miles per hour were measured throughout the first day of the event, leading to drifts and whiteout conditions. On the second day, the wind reversed course and began blowing just as hard N/NW.
"There wasn't as must snow on the tail end of the event but it doesn't matter when there's that much wind."
He said whiteout conditions persisted with the shift in the wind, forcing road closures between Glasgow and Opheim, Brockway to Terry and I-94 at the North Dakota border.
At Glasgow, 6.7 inches of snow were recorded during the event, with less accumulation to the south and as much as 10-12 inches to the north near the border at Opheim, Plentywood and Scobey.
At press time Tuesday morning, March 14, Hichs said another warning has been issued for Phillips, Valley, Daniels and western Roosevelt County with as much as 4 inches expected Wednesday.
Hicks said the storm should be finished by Wednesday at midnight.
"For the most, we're expecting 2-3 inches. Much of the area could see a dusting of as little as an inch," Hicks said.
Drier weather is expected through the weekend and a slight warm up is expected moving into next week.