Posted on
Wolves Win At Buzzer To Qualify For State Tournament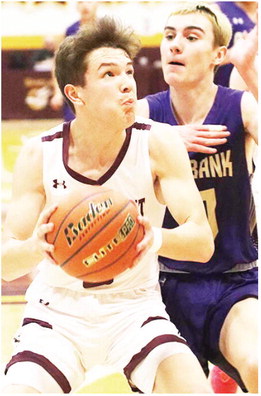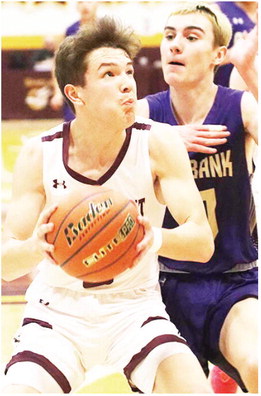 Kelby Bauer hit the biggest three-pointer of his life and it sent the Wolf Point Wolves to the Class B state basketball tournament.
"I'm so proud of these boys," Wolf Point Coach Cole Hanks said after the victory. He noted that five of the players were battling illnesses since Sunday. "They showed heart and grit and resilience. I'm so, so proud of them."
Bauer, a senior, connected at the buzzer to lift the Wolves over Fairfield, 67-64, in the Northern B divisional challenge game played in Havre on Monday, March 6.
"He deserved that shot to go through. He's an amazing kid," Hanks said. "What a game! My hats off to Fairfield, they played a great game."
The Wolves entered the fourth quarter with a 5548 advantage, but Fairfield pulled even at 56-56 on a 17-footer with 5:23 left. After a drive for a basket by Wolf Point's Kraven Silk, the Eagles' Cooper Christensen tied the game with 4:01 left.
Cade Stafne fired in a three-pointer to put the Wolves ahead, but Fairfield took a 62-61 advantage with 2:55 remaining.
Wolf Point regained the lead when Stafne scored off a rebound with 46 seconds left. A free throw by Silk increased the margin to 64-62 with 24 seconds remaining. Fairfield's Christensen scored inside for a 64-64 deadlock with 16 seconds left.
After a time-out, the Wolves held the ball for a final shot until Bauer came through with his three-pointer at the buzzer.
The Wolves will face Columbus at 10:30 a.m. on Thursday, March 9, in the first round of the state tournament in Great Falls.
Columbus, 18-5 for the season, defeated Red Lodge, 55-48, in the Southern B divisional championship game. The squad features 6-9 post Hayden Steffenson.