Posted on
Red Hawks Lose Contest At Buzzer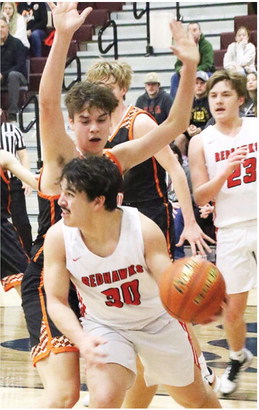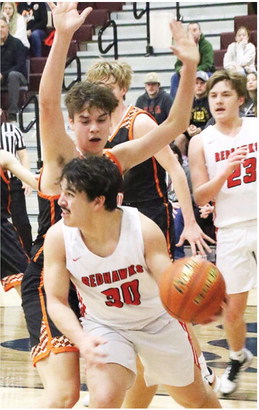 A three-pointer at the buzzer ended the season for Froid/Lake's boys' basketball team at the Eastern C divisional tournament on Saturday, March 4.
Plentywood's Carson Solberg hit an off-balanced shot from three-point range to edge the Red Hawks, 53-50, on Saturday morning.
The Red Hawks led most of the contest including by a 22-16 half-time margin.
The scoring of Mason Dethman and a three-pointer by Patton Bighorn helped Froid/ Lake take a 31-20 advantage in the third quarter.
Plentywood battled back and closed the margin to 35-32 on a three-pointer by Noah Murray with 1:13 left in the quarter. A three-pointer by Landen Kelm increased the gap to 38-32 at the end of the period.
The Red Hawks stayed in the lead until a fast-break play by Easton Tommerup led to a three-point play to tie the contest at 40-40 with 5:51 remaining. After a pair of free throws by Dethman, the Wildcats struck for the next seven points including five by Murray.
Froid/Lake pulled to 4745 on a three-pointer by Bighorn with 3:04 left. After falling behind 50-45, the Red Hawks came back on a three-pointer by Dethman at the 1:04 mark and a 16-footer for a 50-50 deadlock with 37 seconds left.
The Wildcats then held for a final shot and it paid off when Solberg's attempt went in the basket at the buzzer.
Dethman finished with 26
Kelm
points and 12 rebounds to lead the Red Hawks.
Also scoring for Froid/Lake were Bighorn with eight, L. Kelm with five, Nate Stentoft with four, Max Engelke with four and Caden Kelm with three points.
Leading Plentywood were Murray with 19, Solberg with 12 and Tommerup with 11 points.
Tommerup had four steals in the contest.