Posted on
Lustre Wins First Ever Eastern C Divisional Basketball Title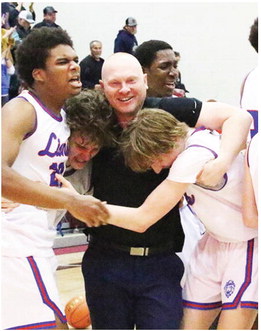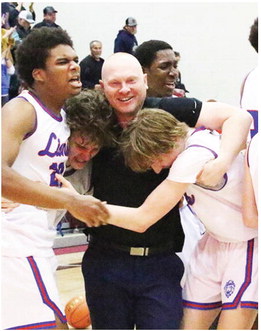 The Lustre Lions were behind by a 41-30 margin at the end of the third quarter of the divisional basketball championship game against Fairview on Saturday, March 5, but the Lions were still confident they could come away with their first ever Eastern C title.
"I don't know what it was, but we didn't have a doubt in our minds," junior Cayden Klatt said.
Two free throws by Klatt with 14 seconds left ended up being the deciding points in the 51-50 victory, but the comeback took a full effort including key free throws by Jasiah Hambira and a clutch three-pointer by Elijah Lenihan.
"The whole gym was silent to me," Klatt said of being able to hit the free throws under the pressure of a packed house. "I couldn't hear a thing."
Coach Randy Reddig, in his eighth season coaching the Lions, said he never lost his confidence that a victory was attainable.
"I want to thank every player I've ever coached. They all had a hand in this," Coach Reddig said. "I want to thank God. It's his community. The community deserves this."
Behind by a 43-30 score early in the fourth quarter, the tide began turning Lustre's way when Hambira accounted for a three-point play with 6:53 remaining. After a basket by Fairview's Wyatt McPherson, the Lions pulled to 45-36 when Klatt connected from three-point range.
Another three-pointer by Klatt cut the margin to 4539 with 4:27 remaining. A basket by Johnslee Pierre on a goal-tending call made the margin only four points.
Fairview's Hunter Sharbono responded with a basket at the 4:01 mark, but a three-pointer by Lenihan closed the gap to 47-44 with 3:40 left.
Sharbono, who finished with 22 points, was then forced to leave the game with his fifth foul, an offensive foul. The Lions quickly pulled to 47-46 on a hoop by Hambira off a pass from Klatt at the 3:15 mark. A free throw by Pierre tied the game, 47-47, with 2:42 remaining.
The Warriors, however, didn't back down as Wyatt McPherson canned a three-pointer with 2:11 left. The margin stayed at 50-47 until Hambira hit two free throws with 38 seconds remaining.
After a turnover by the Warriors, Klatt was fouled with 14 seconds remaining.
Fairview's final shot attempt was blocked by Hambira with two seconds on the clock.
Top scorers for the Lions were Klatt with 13, Lenihan with 11 points and Hambira with 10 points.
Also scoring were Braden Ewing with six, Pierre with five, Clay Reddig with four and Alex Chen with two points.
Along with his 22 points, Sharbono grabbed 11 rebounds and had four assists.
Jeff Tjelde scored 12 and Tyler Loan added nine for the Warriors.
The Lions will face Big Sandy at 5 p.m. on Thursday, March 2, at the Class C state tournament in Billings. Fairview opens against Belt at 1:30 p.m.