Posted on
Lustre Girls Fall Against MonDak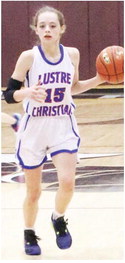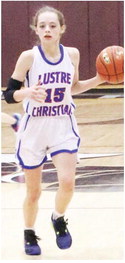 Lustre's girls' basketball season came to a close against MonDak at the Eastern C divisional tournament in Wolf Point on Thursday, March 2.
MonDak won the loser-out contest by a 50-33 final.
The Thunder gained an 8-5 lead in the first quarter and held a 21-16 half-time advantage.
MonDak broke away to increase its advantage to 32-20 during the third quarter as the strong play of Abby Lowes led the attack.
Two three-pointers by Aubri Holzrichter helped the Lions close the gap to 35-26 later in the quarter. A free throw by Grace Brown cut the gap to 37-27 at the end of the period.
The Thunder struck for the first four points of the fourth quarter until Lustre's Lauryn Holzrichter hit a three-pointer with 5:15 remaining. Mon-Dak then increased the margin to 47-30.
Top scorers for Lustre were A. Holzrichter with 12, Alexa Reddig with nine, G. Brown with seven, L. Holzrichter with three and Hannah Brown with two points.
G. Brown had eight rebounds for the Lions.
Leading the Thunder were Kiarra Brunelle with 15 and Lowes with 10 points.
Leaders in rebounders were Lowes with 10 and Brunelle with nine boards.