Posted on
Wolf Point Stops Poplar At Divisional Tournament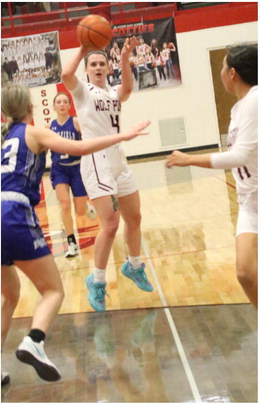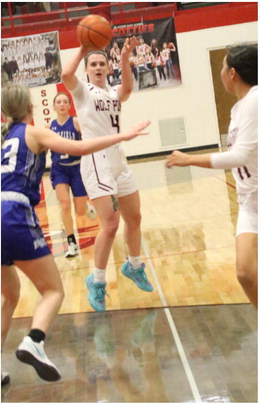 Wolf Point's girls' basketball team took control in the second half to beat Poplar, 6542, in the semi-final round of the divisional tournament on Friday, Feb. 24.
The Wolves held a slim 3228 half-time advantage and Poplar pulled to 32-30 when Kessee Erickson scored on an inbounds play to open the third quarter.
Wolf Point's man-to-man defense held the Indians scoreless for most of the rest of the third quarter to build a double-digit advantage.
A basket by Sierra Hamilton off a pass from J'Elle Garfield got the 12-0 streak going for the Wolves. Garfield and KJ St. Marks then connected on consecutive three-pointers for the Wolves. A drive by Garfield and a pair of free throws by Katelyn MacDonald put the score at 44-30.
Poplar's Morgen Nordwick accounted for a layup at the 1:15 to end Wolf Point's run. After Wolf Point's Juellz Bauer scored on a drive, Rikki Belton hit a 17-footer to cut the margin to 46-34 to end the third quarter.
M. Nordwick got the fourth quarter off to a good start for the Indians, but the Wolves struck for the next nine points on a three-point play by Hamilton, four points by Keeley Blount-Henderson and drive by St. Marks for a 55-36 advantage with 5:21 left.
Top scorers for the Wolves were Garfield with 17, St. Marks with 17 and Hamilton with 15 points.
Also scoring were Blount-Henderson with eight, Bauer with four and MacDonald with four.
M. Nordwick finished with 14 points to lead the Indians. Rounding out the scoring were Erickson with seven, Cammie Martell with six, Jazmyn Carrywater with five, Braelyn Nordwick with five, Belton with four and Mattie Falls Down with one.
After a three-pointer by Carrywater pulled the Indians to 10-8 during the first quarter, Hamilton accounted for the last four points of the period on passes from Garfield and St. Marks for a 14-8 lead.
A drive by M. Nordwick cut the gap to 16-15, but the Wolves responded with hoops by St. Marks and Mac-Donald. Wolf Point stayed ahead until C. Martell hit a three-pointer to put Poplar up, 26-25, with 1:36 remaining in the half.
Wolf Point answered with the next seven points on a 16-footer by Garfield, a hoop by Hamilton and a three-pointer by St. Marks. The Wolves led 32-28 at the half.