Posted on
Poplar Places Fourth At Divisional Tourney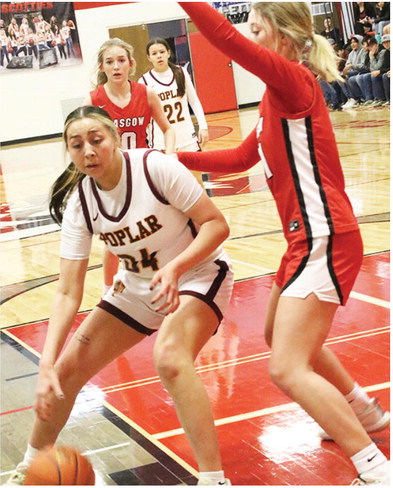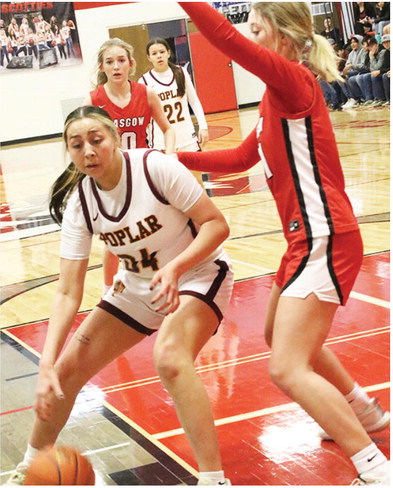 Poplar's girls' basketball team fell behind early and lost to Glasgow, 71-57, in the consolation championship game of the Northern B divisional tournament in Glasgow on Saturday, Feb. 25.
The Indians struggled against Glasgow's full-court pressure during the first quarter and trailed by a 23-11 margin at the end of the period.
Glasgow went on to grab a 31-13 advantage midway into the second quarter. The Indians kept battling as a drive by Rikki Belton, four points by Morgen Nordwick and a steal and drive by Cammie Martell pulled Poplar back to 33-21. The Indians trailed 39-26 at intermission.
The Scotties struck for the first eight points of the third quarter, including four by Carly Nelson, to increase their lead to 47-26.
Poplar's Bailey Dupree hit a three-pointer late in the period. The Indians trailed 58-40 at the end of the quarter.
The Indians earned the first seven points of the fourth quarter on the scoring of Braelyn Nordwick, Dupree and M. Nordwick to cut the margin to 58-47 with 6:40 remaining.
The hot shooting of Jazmyn Carrywater led the Indians back to 62-53 with 4:23 left. The Indians, however, couldn't get any closer.
Top scorers for the Indians were M, Nordwick with 13 and C. Martell with nine points. Dupree, Kessee Erickson and B. Nordwick added seven points each.
Also scoring for Poplar were Carrywater with six, Belton with four, EmmaRae Martell with two and Mattie Falls Down with two points.
Leading the Scotties were Daley Aune with 30 and Nelson with 18 points.