Posted on
Wolves Win District 2B Tournament Championship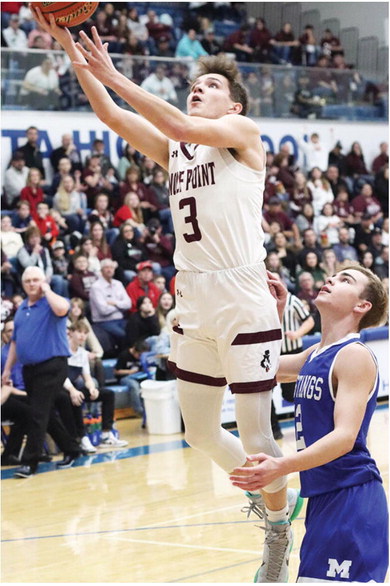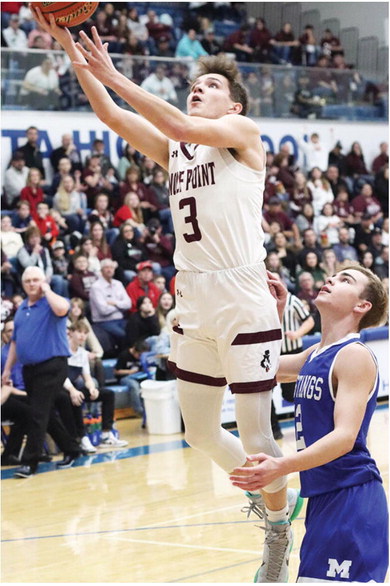 Wolf Point won the District 2B boys' basketball championship with a convincing 68-64 victory over Malta in the title game of the district tournament on Saturday, Feb. 18. Wolf Point coach Cole Hanks believes this is the program's first district championship since the 2019-2020 season.
"I was proud of how we came together as a team after a tough last couple weeks of the season with injuries and tired legs," Hanks said about winning the title in Malta. "We knuckled down and made some adjustments to both our offense and defense."
The Wolves used a surge late in the opening quarter and then struck for 20 points in the second quarter en route to the victory.
"We just played with a chip on our shoulder like we started the season out with," Hanks said.
The Wolves tied the game, 11-11, on a three-pointer by Jack Kolstad. A three-pointer by Kraven Silk ended the quarter with Wolf Point ahead by a 16-11 advantage.
Wolf Point opened the second quarter with the first six points on three-pointers by Cade Stafne and Juliun Benson. A 12-footer by Gaige Bushman and a basket off a rebound by Lennoxx Lilley increased the margin to 26-15.
Ahead by a 30-20 score later in the half, the Wolves kept rolling with a drive by Benson and a free throw by Bushman. A three-pointer by Kelby Bauer resulted in a 3623 half-time advantage.
After Malta battled back to 41-36 early in the third quarter, the Wolves tallied the next nine points on an inside shot by Stafne, two three-pointers by Benson and a free throw by Silk. The Wolves held a 53-41 advantage after three quarters of play.
Reaching double figures for the Wolves were Benson with 17, Bushman with 11 and Silk with 10 points.
Also scoring were Lilley with eight, Stafne with seven, Kolstad with six, Bauer with five points and Peyton Summers with four points.
"I thought everyone stood out and stepped up and really filled their role from top to bottom," Hanks said. "It was a good weekend and I'm proud of all the boys for how far they have come. Hopefully, we bring some of that momentum into divisionals."
The divisional tournament will begin on Thursday, March 9, in Shelby.
"We need some more work on our man defense and maybe put a few more things in defensively as well as offensively," Hanks said. "We will make some adjustments to hopefully make us less predictable."