Posted on
Red Hawks Stop Plentywood, 61-48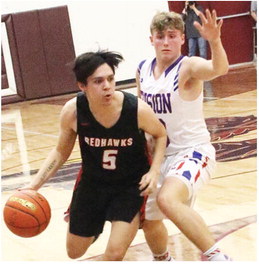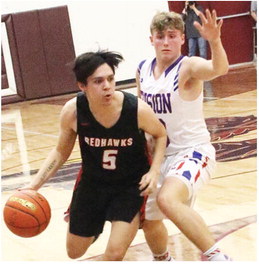 The Froid/Lake Red Hawks enjoyed an excellent shooting night and stopped Plentywood, 61-48, in the semi-final round of the District 2C boys' basketball tournament in Sidney on Friday, Feb. 17.
The contest was deadlocked at 7-7 early, but five points by Mason Dethman and a three-pointer by Patton Bighorn provided Froid/Lake with a 15-9 advantage at the end of the first quarter.
Froid/Lake then erupted for the opening six points of the second period on a free throw by Bighorn, a drive by Dethman and a three-pointer by Bighorn.
After Plentywood's Chance Klein hit a three-pointer to cut the gap to 21-14, Landen Kelm accounted for five straight points for the Red Hawks. Another three-pointer by Bighorn increased the margin to 29-16.
Plentywood's Carson Solberg hit a half-court shot at the buzzer to pull the Wildcats to 32-21 at the half.
After Plentywood battled back to 32-25 early in the third quarter, the Red Hawks responded with the next seven points on two three-pointers by Bighorn and a free throw by Dethman.
Dethman, who finished with 30 points, led the attack late in the third quarter along with a three-pointer by Joey Boyd. The Red Hawks held a 51-33 advantage after three quarters of play.
The Wildcats fought back to 57-48 late in the game, but Dethman accounted for the game's final six points.
Top scorers for Froid/Lake were Dethman with 30 and Bighorn with 21 including six three-pointers. Boyd and L. Kelm added five points each.
Dethman grabbed nine rebounds in the contest.
Reaching double figures for Plentywood were Solberg with 14, Easton Tommerup with 12 and Klein with 11 points.
Solberg had five assists for the Wildcats.