Posted on
Red Hawks Go Into Overtime In Title Game Against Fairview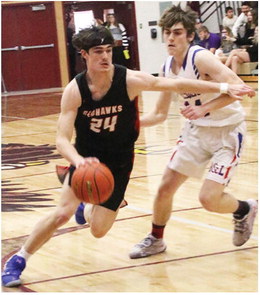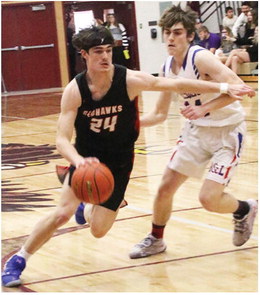 In a thrilling classic district championship game, Fairview posted a 49-47 win over Froid/Lake at the District 2C boys' basketball tournament on Saturday, Feb. 18.
The Red Hawks entered the fourth quarter with a 29-28 lead and gained a 34-32 advantage in the fourth quarter thanks to five points by Joey Boyd.
After Fairview went on a three-pointer by Hunter Sharbono, Froid/Lake scored on a basket off a rebound by Max Engelke. A three-pointer by Patton Bighorn put the Red Hawks up 39-37.
Froid/Lake earned a 41-37 advantage on a drive by Nate Stentoft, but an inside basket by Deacon Gackle kept the Warriors close.
The Red Hawks appeared to be in good shape when a short jumper by Engelke and a pair of free throws by Mason Dethman put the margin at 45-41, but Fairview's Sharbono accounted for four points in the final 13 seconds to force overtime at 45-45.
Neither team was able to score in overtime until Dethman scored off a rebound with about a minute remaining.
Fairview tied the game, 4747, on a drive by Sharbono. After the Red Hawks missed a shot, Jeff Tjelde was fouled on the rebound. Tjelde hit two free throws with 16.5 seconds left to give Fairview the win.
Top scorers for the Red Hawks were Dethman with 19, Boyd with 10 and Bighorn with 10. Engelke and Stentoft added four points each.
Dethman finished with 22 rebounds and had three steals. Leading Fairview were Sharbono with 21, Tjelde with 11 and Tyler Loan with nine points. Tjelde had 14 rebounds. Sharbono finished with four assists.
The Eastern C divisional tournament is scheduled for March 1-4 in Wolf Point.