Posted on
Local Group Helps Bring Shakespeare To Wolf Point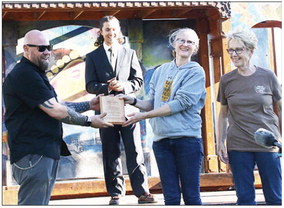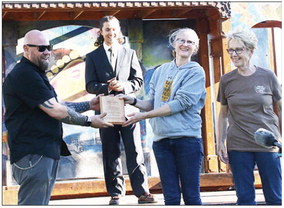 Local Shakespeare in the Park organizers Barb Olson and Vivian Schultz want to make sure that Wolf Point remains a location for the performances in the future.
They agree that exposing young people to Shakespeare is beneficial for many reasons.
"It's such a unique cultural event that is only available for some people through this program," Olson said. "I feel that our youth not knowing Shakespeare and how Shakespeare works can be a hindrance."
Olson added, "It's entertainment and a fun summer outing for families and friends."
The experience does require a local commitment. The committee is currently asking for donations to help raise the $1,300 needed. In addition, rooms and three meals must be provided for the actors' time in Wolf Point.
Schultz and Olson say they are thankful to community members who have made generous donations in the past. Any donation would be appreciated. Donations can be sent to Vivian Schultz, PO Box 781, Wolf Point, MT 59201. For more information, call her at 406-366-2739.
It's an achievement that Wolf Point hosts the performance annually. The next closest locations are Malta and Sidney.
"It's important to keep it going," Schultz said. "We will try to keep going as long as the community supports it."
The mission of Montana Shakespeare in the Parks is to engage and enrich both rural and underserved communities with professional productions of Shakespeare and other classics and, through educational outreach, to inspire creative expression and appreciation of the arts in young audiences.