Posted on
Elks Provides Support To The Area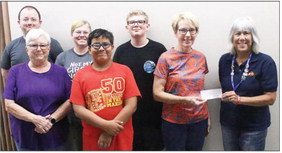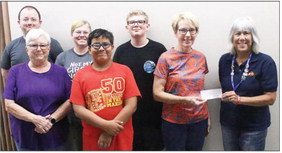 The Wolf Point Elks Lodge #1764 invests in the community both financially and with volunteer service throughout the year.
Julie D'Ambrosio, secretary of the local organization, says the Wolf Point lodge received a total of $9,500 through grants from the national level during 2022. Those funds were utilized to assist several local groups with their projects. The donations included $2,500 to Bigger Sky Kids, $2,000 to the Food Pantry, $2,000 to the Friends of the Library, $2,000 to Pound Puppies and $1,000 to the Fort Peck Tribes' Veteran Affairs.
In addition, the Wolf Point Elks Lodge took part in a program to assist an area veteran in moving into his first home.
D'Ambrosio is hoping the lodge will be able to receive even more grants during the 2023 fiscal year.
"I'm hoping our grants will go up to $11,000," she noted.
She explained the Elks' state project is to award grants for volunteer fire departments in Montana. Several area departments will receive grants this year.
Another important function of the lodge is maintaining the Wolf Point Elks Event Center, the only large venue for holding events in Wolf Point. Many organizations utilize the facility to hold events.
Members are needed to keep the lodge active and the facility available for events. Without membership, there is no lodge; and without a lodge, there is no club. Annual dues remain low at $101. If interested in becoming a member, contact a local member of the Elks.
Local projects that the Elks provide include scholarships, the Elks Hoop Shoot, an education appreciation night and an awards banquet recognizing the Citizen of the Year and First Responder of the Year.
The local lodge is led by Exalted Ruler Jeff Presser. Other officers include Dennis Heser as Leading Knight, Erin Ricker as Loyal Knight, Scott Montgomery as Lecturing Knight and Tim Pedersen as treasurer.
Local Elks Lodges throughout the United States, Guam, Puerto Rico, the Philippines and the Panama Canal celebrated 155 years of community service on Feb. 16, 2023. The fraternal order was founded "to promote and practice the four cardinal virtues of Charity, Justice, Brotherly Love and Fidelity; to promote the welfare and enhance the happiness of its members; to quicken the spirit of American Patriotism and cultivate good fellowship." Last year alone, the Elks donated approximately $368 million dollars in cash, gifts and time to make our communities better places to live.