Posted on
Culbertson Knights Of Columbus Provide Tradition Of Fish Fry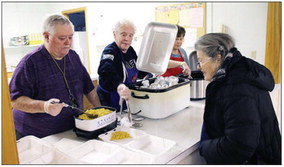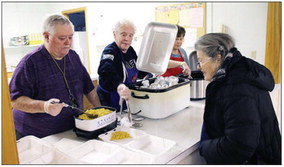 The Culbertson Knights of Columbus is pleased to continue a great tradition in the community.
For the four Fridays prior to Good Friday, the group serves a fish fry meal at St. Anthony's Catholic Church from 5-7 p.m.
Knights of Columbus member Mark Ellerkamp explains the 40-year reign of history started when Larry Reitz shared the secrets of the fish frys held in Sidney.
"He introduced us to the concept and the recipes," Ellerkamp said.
Since that time, the Culbertson Knights of Columbus has held the fund-raising event many more than 100 times.
"We've got awfully good at frying fish," Ellerkamp said. The group has even purchased three commercial deep fryers.
Along with the all-you-caneat fish, the meal includes a baked potato, vegetables and buns. This year, cole slaw will be added to the menu.
Everyone has the pleasure of capping their meal with the "world famous lemon pudding cake," Ellerkamp added.
The process requires between one and two dozen volunteers. Preparation of the meal starts two nights in advance of the event.
"You have as many working in the kitchen as you do on the floor," Ellerkamp said. "As hard of the work is, it's a great social time."
Profits from the event go back to the parish, Special Olympics and other requests from the community.