Posted on
Culbertson Comes Back To Edge Circle In Overtime Contest At Tourney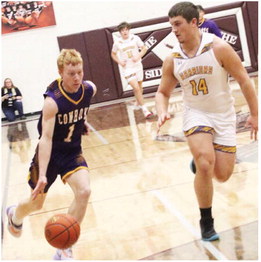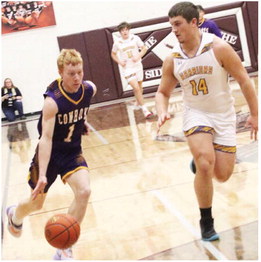 The Culbertson Cowboys made a strong comeback at the end of regulation and then edged Circle, 53-50, in overtime at the district tournament on Friday, Feb. 17.
After falling behind by a 4236 margin, the Cowboys started their comeback when Peyton Perkins hit a three-pointer with 1:11 remaining.
Culbertson still trailed by three points until Mark Kirkaldie scored inside, after a steal by Perkins, to close the margin to 42-41 with 24 seconds left.
The Wildcats added a point on a free throw by Beau Beery with 10 seconds left. After a steal by Mo Bighorn, Perkins made a layup with a second remaining for a 43-43 deadlock.
Free tosses by Jace Curtiss put the Wildcats ahead 46-45 with 3:12 remaining, but the Cowboys grabbed the lead on a drive by Perkins at the 2:57 mark.
A pair of free throws by Breckyn White and a baseline shot by Owen Beery put the Wildcats ahead 50-49.
Culbertson, however, went ahead to stay when Bighorn hit a three-pointer with 28 seconds remaining. After Circle missed a shot attempt, Colin Avance added a free throw for the 53-50 final.
Top scorers for the Cowboys were Bighorn with 14 and Avance with 12 points. Perkins finished with nine points.
Also scoring for Culbertson were Bridger Salvevold with six, Kirkaldie with four, Dawson Bergum with three, Donte Eagle Boy with three and Justice Bengochea with two points.
Avance and Kirkaldie finished with seven rebounds each. Perkins finished with four assists and three steals.
Beau Beery led Circle with 16 points. Donovan Gibbs and O. Beery each added eight points.
Circle took a 14-7 lead in the first quarter. The game was even at 16-16 at half-time and 32-32 after three quarters of play.