Posted on
Bainville's Dollars For Scholars Assists Students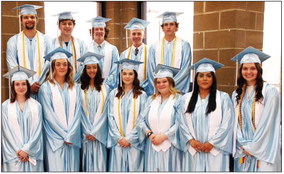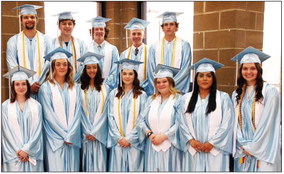 Bainville's Dollars for Scholars has been a positive force for students in the community for 25 years.
The organization raises between $10,000 and $15,000 annually to present scholarships to Bainville students.
Lindsay Winn serves as the organization's president.
Other officers are Billie Pippenger, Jessica Berwick, Ed Vink, Sara Harmon and Rebecca Robertus.
Bainville Dollars for Scholars counts on two large fundraising events during the year.
One, the holiday bazaar, takes place at the school each December.
The spring fling is the second and occurs each April. The night includes a banquet and silent auction. The meal has included steak and shrimp in the past.
Bainville Dollars for Scholars was started 25 years ago by Karen Vannatta.
"She's still one of our biggest supporters," Winn said.
Bainville School Class Of 2022
Bainville Public School Class of 2022 includes (left to right) Whitney Nehring, Braeden Romo, Micah Anderson, Wyatt Iverson, Emma Poser, Kaige Bratcher, Kaitlyn Adkins, Rudy Kummer, Chelsea Parker, Jesse Strickland, Latesha Brady and Lakyn Rabbe. (Photo by James Walling)