Posted on
Bainville Girls Fall Short Against Circle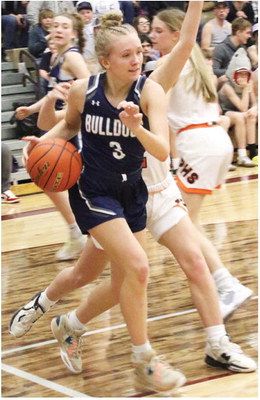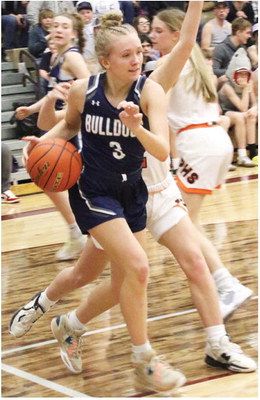 Bainville's girls' basketball season came to an end in a 46-36 loss against Circle in a hard-fought game at the District 2C tournament in Sidney on Friday, Feb. 17.
The Bulldogs held an 18-17 half-time lead, but the threepoint shooting of Grace Gackle and Alexis Moline put the Wildcats ahead by a 36-27 margin.
Bainville fought back on a hoop by Hailey Berwick and a coast-to-coast drive by Elsie Wilson to pull to 36-31 at the end of the half.
The Bulldogs stayed close as baskets by Wilson and H. Berwick resulted in a 40-36 game with still 5:36 remaining.
Bainville, however, was unable to score again in the contest.
Circle pulled away on four points by Madeline Moline along with a pair of free throws by Alexis Moline.
Leading the Bulldogs were Wilson with 19 and H. Berwick with 15 points. Lila Butikofer had two points.
Butikofer grabbed six rebounds. Leaders in steals were Wilson with four and H. Berwick with three.
Top scorers for Circle were M. Moline with 16 and A. Moline with 11 points.
M. Moline had four assists.