Posted on
Lady Wolves Defeat Scobey, 36-32, At Home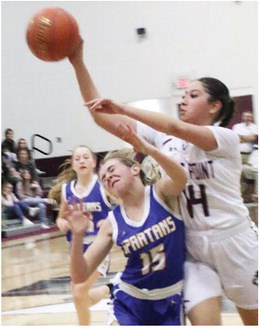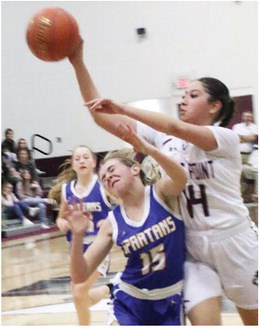 At the end, Wolf Point's senior girls made sure they had a happy senior night.
The Wolves accounted for the game's final six points to beat Scobey, 36-32, during an exciting final home game on Saturday, Feb. 11.
Down by a 32-28 margin, Wolf Point pulled to 32-31 when junior center Sierra Hamilton hit on a rare three-pointer with 3:16 remaining.
Wolf Point's seniors then stepped forward. A drive by J'Elle Garfield put the Wolves ahead 33-32 with 2:11 left.
After both teams missed scoring opportunities, senior KJ St. Marks canned a three-pointer for a 36-32 advantage with only 29 seconds left.
Hamilton led the Wolves with 13 points. St. Marks finished with seven points.
Also scoring for Wolf Point were Garfield with six, Katelyn MacDonald with five, Azalei Ackerman with three points and Keeley Blount-Henderson with two points.
Carrie Taylor accounted for 15 of Scobey's points. Kennadi Cromwell added six points.
The Wolves enjoyed an excellent start as they ran off to an 11-2 start highlighted with a three-pointer by Ackerman with 2:14 left in the quarter.
Two baskets by Hamilton put the Wolves up 15-4 to end the first quarter.
Scobey battled back with 13 points in the second period for a 17-17 deadlock.
After a free throw by Taylor opened the third quarter, the Wolves earned the next six points on two hoops by Hamilton and a steal and drive by Keeley Blount-Henderson.
The Spartans ended the third quarter with six straight points to grab a 27-25 advantage.
A three-point play by Cromwell increased Scobey's lead to 30-25 early in the fourth quarter. A hoop by St. Marks, off a pass from Blount-Henderson, and a free throw by MacDonald cut the gap to two points.
The District 2B tournament will begin on Thursday, Feb. 16, in Malta.