Posted on
Froid/Lake Outscores Cowboys In Conference Contest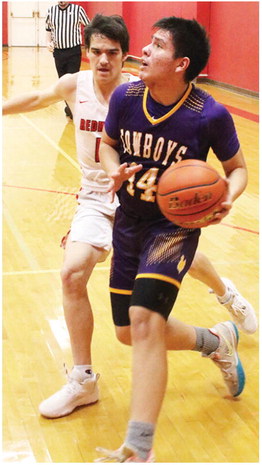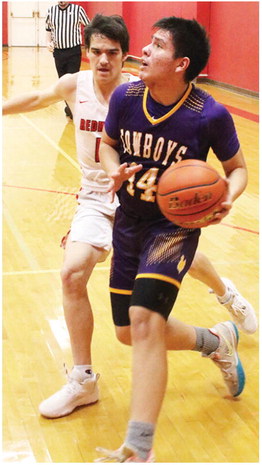 The Froid/Lake boys' basketball team withstood an outstanding start by Culbertson to fight off the Cowboys, 65-55, in Medicine Lake on Friday, Feb. 10.
The Red Hawks trailed 2118 at the end of the first quarter and by a 28-23 margin until they struck for 11 of the final 13 points of the first half to grab a 34-30 lead. A basket by senior Caden Kelm off a pass from Mason Dethman started the streak with 5:18 left in the half. Dethman then accounted for the next six points, including a dunk, for a 31-28 lead.
After Culbertson's Justice Bengochea hit two free throws, Dethman connected on a short jumper and free throw to end the half.
Bengochea scored inside to get the Cowboys off to a good start in the second half. The Red Hawks, however, struck for the next 11 points on four points by Max Engelke, two jumpers by Dethman and a three-pointer by Patton Bighorn for a 45-32 margin.
A three-pointer by Dethman ended the third quarter with the Red Hawks up by a 51-39 advantage.
The Cowboys stayed within range early in the fourth period on a three-pointer by Peyton Perkins and a free throw by Mark Kirkaldie. A drive and dunk by Dethman excited the crowd and put the Red Hawks ahead 57-43 with 4:52 left.
A baseline shot and three-pointer by P. Bighorn and a drive by Nate Stentoft increased the gap to 64-51 with only 2:01 remaining.
Top scorers for the Red Hawks were P. Bighorn with 28 and Dethman with 26 points. P. Bighorn hit eight three-pointers in the victory.
Also scoring were Max Engelke with four, Kelm with four and Stentoft with three.
Mo Bighorn finished with 25 points to lead the Cowboys. Perkins and Kirkaldie finished with eight points each.
Rounding out the scoring were Bengochea with six, Bridger Salvevold with six and Colin Avance with two points.
The first quarter belonged to Bighorns. Culbertson's M. Bighorn accounted for his team's first 15 points to lead the Cowboys to a 15-7 lead. He accounted for 17 points in the quarter. Froid/Lake's P. Bighorn kept the Red Hawks close with 14 points including four three-pointers. Culbertson led 21-18 at the end of the quarter.
Mo Bighorn
Culbertson's Mo Bighorn heads to the basket during the game in Medicine Lake. (Photo by Bill Vander Weele)