Posted on
Wolf Point Girls Fall To Strong Baker Squad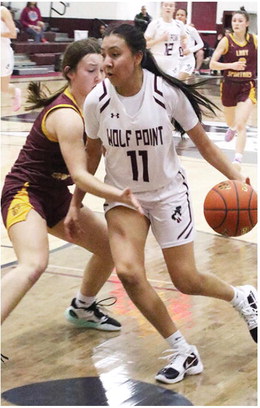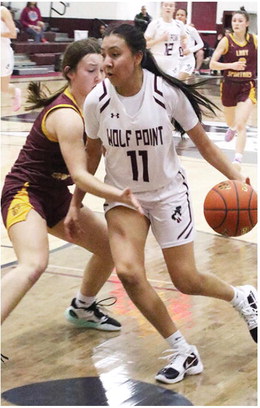 After a fairly close two and a half quarters, Wolf Point's girls' basketball team ended up losing at home against Baker by a 76-49 final on Thursday, Feb. 2.
The Wolves accounted for the last six points of the first half on two baskets by Sierra Hamilton and a drive by J'Elle Garfield to pull to 40-29 at intermission.
Trailing by a 46-32 margin, the Wolves responded with a drive by Garfield and a basket off a rebound by Hamilton. After Baker's Emily Enos hit a free throw, the Wolves struck back with a three-pointer by KJ St. Marks and two free throws by Garfield to cut the gap to only 47-41 with 4:20 left in the period.
Baker, however, then took control of the non-conference game's with the next 23 points. The streak included the final 12 points of the third quarter for a 59-41 advantage. Madison O'Connor, a 5-7 freshman, scored six of those points.
The Spartans then tallied the first 11 points of the fourth period for a 70-41 margin. O'Connor scored eight of the points and Harlee Graham fired in a three-pointer.
A drive by Garfield ended Baker's streak with 4:17 remaining.
Hamilton scored 20 and Garfield added 14 points to lead the Wolves.
Also scoring were Keeley Blount-Henderson with seven, St. Marks with three, Juellz Bauer with three and Azalei Ackerman with two points.
O'Connor finished with 30 points for Baker. Also reaching double figures were Kyal Hadley with 16, Graham with 11 and Hope Gonsioroski with 10 points.
The scoring of Hamilton led the Wolves to an early 9-8 lead, but Baker gained a 22-13 advantage at the end of the opening quarter.
Blount-Henderson
Wolf Point's Keeley Blount-Henderson drives against Baker.
(Photo by Bill Vander Weele)