Posted on
Speakers Take Part In School's Career Fair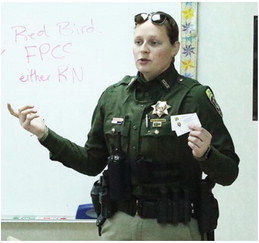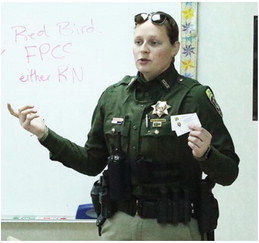 Wolf Point's junior high and high school student got a chance to think about their future during the classroom career fair on Monday, Feb. 6.
Guidance counselor Erin Loendorf was thankful to the individuals who gave up their time to educate the students.
"Everybody has been really great about coming into the school and share," Loendorf said. This is the sixth year of the career fair. She said she likes students to see the job opportunities that are available in the community.
She noted the American Indian Higher Pathways grant helps pay for supplies and food during the event.
Speakers included Mecaila Martin and Kara Knodel from NEMHS, Carly Payne from Indian Health Services, midwife Natalie Von Houton, pharmacy technicians Dolly Tattoo and Elaine Long, Cierra Grimsrud for radiology, Fellini Adams and Darcy Hunsaker from Red Bird, Brianna Red Cloud for occupational therapy, drug agents Raul Figueroa and Jonah Rediger, Richland County Sheriff Office deputy Tim Lingle, Montana Highway Patrol officers T'Elle Evans and J.T. Oliver, motivational speaker William Henry, Marques White Horse of the state highway department, Kristin Becker, Jay Seitz and Jeffrey Berger of Nemont, massage therapist Mandi Martin, tribal council members, Carrie Sue Schumacher of Fort Peck Community College, Nakoa Heavyrunner of RezKast Radio, Josh Toews of Opportunity Bank, Sgt. Rick Brown of the Montana National Guard and Austyn Juve and Trevor Hamilton of the U.S. Marines.