Posted on
Local Students Learn About Abandoned Animals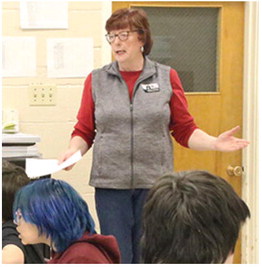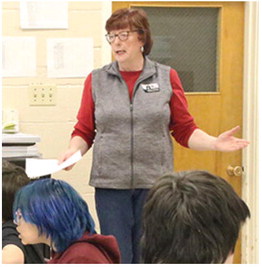 As part of a resource segment regarding abandoned animals, North Side Elementary School students heard from a representative from Wolf Point Pound Puppies on Thursday, Feb. 2.
"I think it's important for students at this young age to become exposed of becoming responsible pet owners," sixth-grade teacher Ronnell Tumonong said.
The teacher said the resource will be conducted for three weeks. The studies started on Monday, Jan. 30.
Carol Hackley, volunteer for Wolf Point Pound Puppies, said there are 70 million stray animals in the world.
She said the best way to prevent having unwanted animals is spaying and neutering animals.
If a person adopts animals from a shelter, they should make sure the pet is spayed or neutered and healthy. Animals can be vaccination at Pound Puppies or from a veterinarian.
Hackley noted that Pound Puppies isn't a shelter. "We're a rescue," she noted.
She said that Pound Puppies handled 484 community owned dogs and 463 cats during 2022.
Pound Puppies provided 13,218 pounds of food for dogs and cats.
Wolf Point Pound Puppies started in 2013 with the mission of finding forever homes for homeless, abused and neglected animals in Wolf Point and the surrounding communities. Since its start, Pound Puppies has cared for 4,828 dogs and 905 cats.
Tumonong said part of the instruction might include comparing the challenges locally to what occurs in the Philippines. He said the problem is at least twice as bad in the Philippines.
"I'm a dog lover myself," Tumonong said. "This resource really is dear to my
heart."
Hackley
Carol Hackley of Wolf Point Pound Puppies provides information to students during a presentation on Thursday, Feb. 2.
(Photo by Bill Vander Weele)