Posted on
Bulldogs Fall Short Against Circle Girls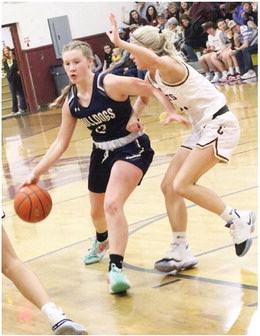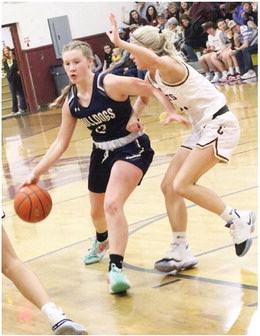 The Bainville Bulldogs put up a strong fight, but lost to a strong Circle girls' basketball team, 55-39, on Saturday, Feb. 4.
After falling behind by a 16-5 margin, Bainville battled back to 18-10 on a three-pointer by Miah Pippenger and an inside shot by Elsie Wilson to end the opening quarter.
Four points by Wilson and a three-pointer by Hailey Berwick cut the margin to 22-17 with 2:12 remaining in the half.
Circle ended the second quarter on a high note when Kambrie Kountz hit a 16-footer and Madeline Moline connected on a three-pointer for a 27-17 margin.
The scoring of M. Moline led the Wildcats to a 33-20 advantage midway into the third quarter. The Bulldogs fought back on a basket by Wilson, a three-pointer by Brecklyn Pippenger and a hoop by Tally Berwick to trail only 37-28.
The Wildcats responded for the last seven points of the quarter for a 44-28 advantage.
Circle increased the gap to 53-33 with 2:33 remaining in the conference game.
Leading the Bulldogs were Wilson with 13 and H. Berwick with 10 points.
Also scoring were B. Pippenger with four, T. Berwick with four, M. Pippenger with three and Chandi Johnson with one point.
Circle's top scorers were M. Moline with 16, Alexis Moline with nine and Tina Hogan with nine.