Posted on
Lady Wolves Stop Scotties In Conference Contest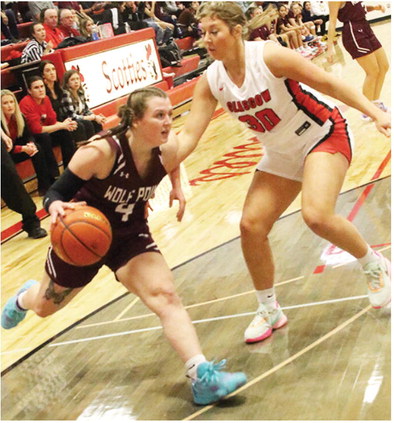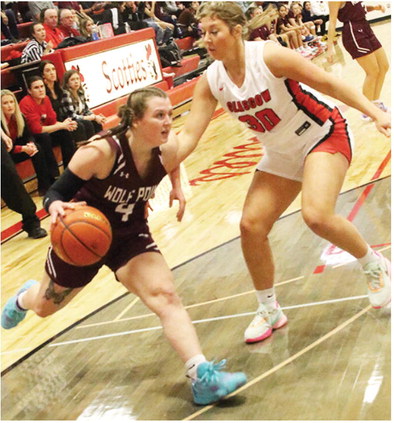 Wolf Point's girls' basketball squad accounted for a solid defensive effort and scored a 40-29 league victory in Glasgow on Friday, Jan. 27.
The Wolves held only a 5-2 lead at the end of the first quarter thanks to a three-pointer by Azalei Ackerman, but Wolf Point struck for the first nine points of the second period.
A basket by Sierra Hamilton off a pass from KJ St. Marks started the streak. A drive by J'Elle Garfield and a three-pointer by St. Marks increased the margin to 12-2.
A drive by Hamilton put the Wolves ahead 14-2 with 3:21 left in the half.
Glasgow's Daley Aune ended Wolf Point's run with a basket at the 3:06 mark.
The Scotties tallied the last five points of the half on four points by Joely Chappell and a basket by Brielle Partridge to cut the gap to 17-12 at intermission.
A pair of free throws by Glasgow's Carly Nelson opened the third quarter, but the Wolves gained control with the final 12 points of the quarter for a 29-14 advantage.
Starting the outburst were a steal and layup by Mahala Moran, a 15-footer by Hamilton and a free throw by Katelyn MacDonald. After two free throws by Hamilton, Garfield accounted for a steal and layup.
A free throw by Kashlin Speak Thunder and a basket by Hamilton put the margin at 15 points.
Three pointers by Aune helped the Scotties get as close at 10 points in the final period, but the scoring of Garfield led the Wolves down the stretch.
Top scorers for Wolf Point were Hamilton with 16 and Garfield with 10 points.
Also scoring were St. Marks with six, Ackerman with three, Moran with two, MacDonald with one, Ameliya Doney with one and Speak Thunder with one.
Leading the Scotties were Aune with 14, Partridge with seven and Chappell with six points.
The Lady Wolves will host Baker on Thursday, Feb. 2, and head to Harlem on Saturday, Feb. 4.