Posted on
FourStar Stays Active In School, Community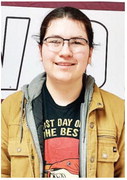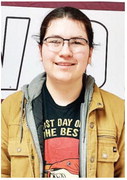 Wolf Point High School senior Jerome FourStar stays involved with activities at the school and in the community.
FourStar is active with the pep band, honored band and FFA. In addition, he is a member of the National Honor Society and is the boys' representative for the senior class on student council.
FourStar has been playing the clarinet since the fifth or sixth grade.
"It's fun," he said of being a band member. "It's nice to play with your friends and feel being a part of something bigger." He started learning how to play the piano this year. "I had free time. It's a good use of my time," FourStar noted.
For FFA, he has competed in agronomy and ag mechanics events. He said that ag mechanics is his favorite competition.
"I like welding and handson stuff," FourStar added.
He said that Martin Toavs is a good leader for the FFA program.
"We learn a lot of trade skills through FFA," FourStar noted.
His favorite classes are band, government and welding.
He couldn't pick a favorite teacher. "They are all great," he said.
Outside of school, FourStar is involved in most of the pow-wows and sweats ceremonies in the area.
"It helps ground you and realize what's important," FourStar said of the events. He mentions relationships and family. "And it helps the community out."
His role model is his father, Kris FourStar.
Jerome has attended school in Wolf Point since the eighth grade.
"I like all the community events and knowing everybody," he said.
After high school, Jerome plans to either join the National Guard or MSU in Bozeman to study engineering.