Posted on
Culbertson Native Earns National FFA Honor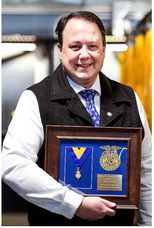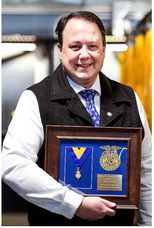 Culbertson High School graduate and Kalispell FFA adviser and agricultural education teacher Justin Heupel received the National FFA Organization's highest degree for his exceptional service to agricultural education and FFA on a national level.
He was the only Montana teacher among 51 recipients nationwide to receive the 2022 Honorary American FFA Degree.
Heupel said the award represents a culmination of accomplishments and relationships built over time, beginning in 1988 when he was a high school student and active FFA member in Culbertson.
He has been teaching for more than 27 years. He extended that passion for education and agriculture to the state level with one of his proudest achievements being the year he served as the Montana Association of Agricultural Educators president and appointed a committee to pursue legislative action.
Heupel said he is also proud that nine of his former students have gone on to become agricultural education teachers. Heupel currently teaches agricultural education 2 and 4 at the H.E. Robinson Ag Education Center, which serves Flathead and Glacier high schools. He also teaches ag welding 1, a dual credit program with Flathead Valley Community College.
Also during his tenure, he served as one of the FFA advisers.