Posted on
Frontier Students Delight Audience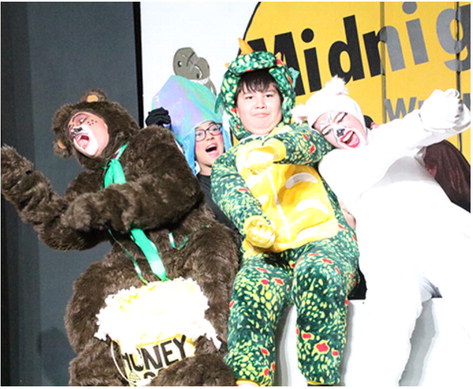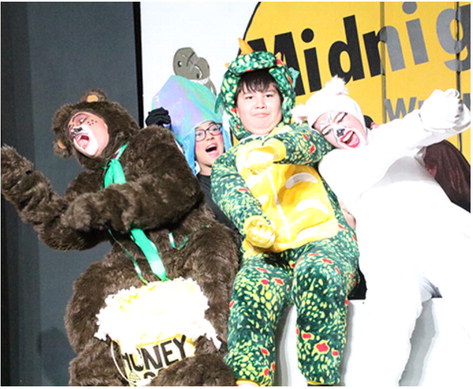 Frontier School's actors (from left) Annaleigh Matejovsky, Maya Deserly, Teagan DeMarrias and
Frontier's Play
A journey that covered months by the Frontier School community resulted in an outstanding performance of the play By Midnight for the public's entertainment on Friday, Jan. 13.
The process actually began when teacher DJ Warrior started writing the one-act play. She explained the first draft took only 10 days, but rewrites with students' input continued for months. Warrior's writing experience includes one full play and a young adult fiction novel. She is currently working on a second novel as well as another one-act play.
Warrior praises teacher Tina Strauser for doing an excellent job with costumes, make-up and marketing.
At the end, however, it was mainly a students' performance all the way through. Eighth-grade student Hailey GrayHawk served as the play's director. Her duties included calling out the cues and "keeping everybody in line."
Eighth-graders Amara Bates and Milayna Smoker-DeWitt accounted for standout jobs as props mistresses.
Students even painted the sets for the performance. Overall, there were 29 students and five staff members involved with the play "These kids took control of the show," Strauser said.
The story featured the stuffed animals turning into human forms in order to visit a child in the hospital. They must return to the school by midnight or risk being stuck in their human forms. The play notes that children find magic because they look for it.
Among the more experienced actors were eighth-graders Kailayla Villaluz as Kat, Reilley Rees as Willy Shakes and Maya Deserly as Juan.
"I really like seeing people laugh," Villaluz said of why she enjoys drama.
She admits that the dress rehearsal held on Wednesday, Jan. 11, included a few lines that weren't quite perfect. "It's just the tiny things," she laughed. "In the theater, you just play it off."
Rees, who has acted in three plays, said his favorite scene involved the security guards chasing everybody. "I imagine that it was fun to watch," Rees said.
Deserly says she has loved acting since she was in the fourth grade.
"I like it when you're on stage and everybody laughs," Deserly said.
Students have been preparing for the presentation by rehearsing every nearly school day for two months.
Warrior said Frontier has offered a play for each of the last three years since COVID.
Frontier's drama programs features a professional lighting system that was purchased through a grant from the Masonic Lodge and a $6,000 headset made possible through donations and selling concession and suckers.