Posted on
Bridges Keeps Herself Busy At School, Work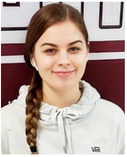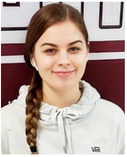 Wolf Point High School senior Kailey Bridges says painting is one of her favorite hobbies.
"I like to be active, but my knees make it very hard," Bridges said. She used to play volleyball before suffering a knee injury.
One of her favorite paintings was one of a dog that she made for her grandmother a couple of years ago.
"She was really happy with it," Bridges said.
After school and on weekends, she is busy working at Frostees in Poplar. She has worked there for the past four years.
"I think working helps me overcome my shyness," Bridges said. "It helps me get out of my comfort zone."
She enjoys making milk shakes the most at the job. Creating banana splits isn't her favorite thing.
"I think they have the best nacho cheese ever," Bridges added.
She said her favorite class is art.
"It's relaxing. I'm in my comfort zone there," she noted.
Her favorite teacher is Douglas Evans. "He likes to joke around a lot," she said.
She says her father, Deke Bridges, is her role model.
"He teaches me a lot of things and gets it through my head," she said.
She has lived in Poplar her entire life. She started going to school in Wolf Point at the end of her freshman year.
"Everybody here is kind and helps each other," Bridges said.
After high school, she plans to attend beauty school in Billings. Her hope is to open her own shop in the future.