Posted on
Lady Wolves Defeat Harlem, 53-23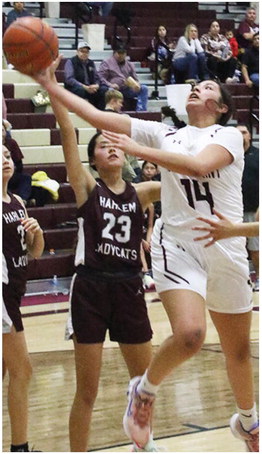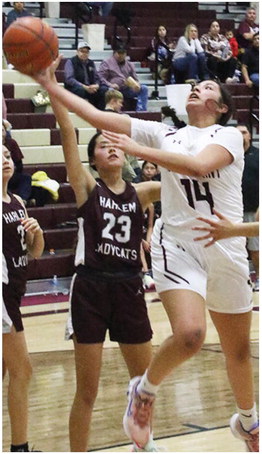 The Lady Wolves overcame a slow start to post a 53-23 conference victory over Harlem, 53-23, in Wolf Point on Saturday, Jan. 7.
Wolf Point trailed by a 1312 margin until accounting for 10 straight points during the final 4:48 of the second quarter.
Senior guard Mailey Wells got the run going with three straight points. A basket off a rebound by Sierra Hamilton increased Wolf Point's lead to 17-13.
Azalei Ackerman hit a pair of free throws with 2:35 left in the half. Ackerman, a junior, then connected on a three-pointer to put the Wolves up 22-13 at the half.
Wolf Point kept rolling to start the second half as the Wolves struck for seven straight points on a drive by J'Elle Garfield, a basket by Hamilton off a nice pass from Wells and a three-pointer by Mahala Moran.
After Harlem's Aaraya Mount made two free throws to cut the margin to 29-15, Hamilton scored off a long pass from Garfield and then Garfield hit a pull-up jumper for a 33-15 lead. Another basket by Hamilton put the Wolves ahead 35-15 to end the third quarter.
Wolf Point opened the fourth quarter with seven quick points on a three-pointer by KJ St. Marks, a steal and drive by Keeley Blount-Henderson and a baseline shot by Ackerman for a 42-15 advantage.
The scoring of St. Marks led the Wolves to a 46-17 lead. Garfield accounted for a three-point play to increase the margin to 51-21 with only 1:44 left.
Top scorers for the Wolves were Garfield with 13, Hamilton with 10 and Ackerman with nine points.
Wells and St. Marks added five points each. Also scoring were Blount-Henderson with four, Moran with three, Katelyn MacDonald with two and Amya Martinez with two.
The Wolves will head to Glendive on Thursday, Jan. 12, and Scobey on Saturday, Jan. 14.