Posted on
Culbertson Team Travels To Glendive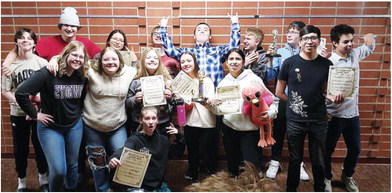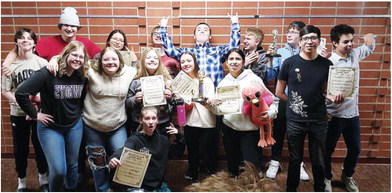 The Culbertson High School Speech and Drama team traveled to Glendive on Jan. 7 to attend the Dawson County District High School Invitational tournament.
"It was another great day for our CHS speech and drama team," said coach Jeri Gustafson.
Placing individually were Trevor Green with another first in informative speech; Marissa Littlewhiteman with a third in informative speech and Peyton Jahns was fourth in pantomime, Joseph Mc-Carty took fifth in humorous solo. Kylie Bergum took sixth in memorized public address. Jade Lone Bear placed seventh in original oratory.
Samantha Palmer took seventh in dramatic solo. Kaylee Kohl placed eighth in dramatic solo.
As a team, CHS tied for first in Class C speech but lost out on a tiebreaker, bringing home the second place trophy.
The team also placed second in the Class C drama sweepstakes.