Posted on
Power Rangers Assist Younger Students With Cookie Decorating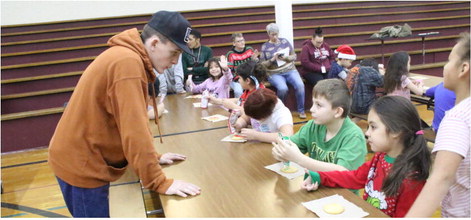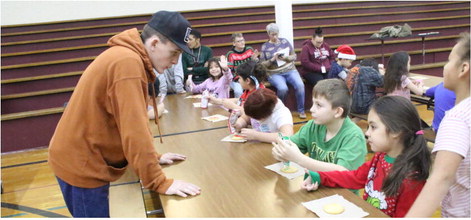 There was a sweet time being enjoyed at both Northside and Southside elementary schools on Wednesday, Dec. 21.
Both gyms were busy with children decorating Christmas cookies on the day before the holiday break. The Wolf Point High School Power Rangers were supervising at Northside while the junior high Power Rangers were at Southside.
The Power Rangers have been involved in community activities for the last three school years. The goal is to increase community involvement and ownership.
The high school group helping out at Northside included about 13 students.
"It builds some rapport between the buildings and the kids," high school counselor Erin Loendorf said of the activity.
High school students reported that they have an enjoyable time.
"It's just fun to see the kids happy," Kaylee Johnson, a junior, said.
Samantha Reed, a senior, added, "I like to take part in holiday traditions with the kids."
Each of the younger students made their own creation with some assistance.
"It's fun to see all the kids," Kylie Rodenberg, a junior, said.
At Southside, about 15 junior high school were busy helping the kindergarten through third graders decorate cookies.
Kim Hanks, principal at the high school and junior high school, said Power Rangers helped some students in the activity around Easter last school year.
"This time, it's the whole school," Hanks said. "There's a lot of icing on some of these cookies."