Posted on
Poplar School Donates To Food Bank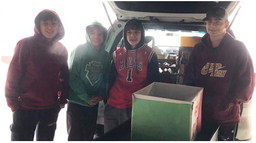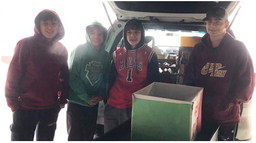 Poplar Schools' students and staff collected more than 800 canned goods and non-perishable food items to donate to the Wolf Point food bank on Wednesday, Dec. 21.
A total of $740 worth of 40 gift cards were donated as prizes to the students and staff from local Poplar and Wolf Point businesses. The cards were used in the form of incentive drawings to participate in this community- supported event. The businesses donating gift cards included Cenex and Agland Hardware, Buckhorn Pizza, Frostee's, Bryan's, Friesen's Floral & Greenhouse, Tribal Express, Main Street Grocery, Wolf Point Cafe, The Blackbird, The Perculator, Gysler Furniture & Appliance, Prairie Cinema, Tande Grocery, Old Town Grill and The Sherman Inn.
The students and staff of Poplar Middle School helped load these items and drove them to the Wolf Point food bank for the donation.