Posted on
Bulldogs Fight Off Froid/Lake, 45-38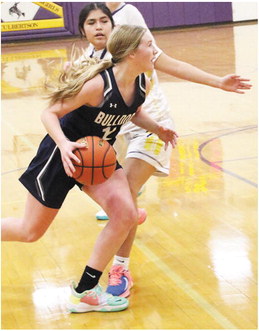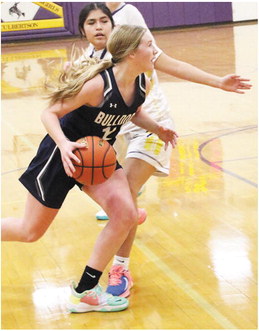 Bainville held off Froid/ Lake, 45-38, during girls' basketball action in Froid on Saturday, Dec. 17.
"It was a huge win for our program," Bainville Coach Brandy Hansen said.
During the first half, the Bulldogs used a run and jump press to slow down the Red Hawks' attack. Bainville switched to a triangle and two in the second half with Elsie Wilson defending Dasani Nesbit and Miah Pippenger guarding Baylee Davidson.
"Elsie Wilson and Miah Pippenger did an awesome defensive job. The rest of the team played great help and double-teamed and rebounded the ball tremendously," Hansen said.
Bainville trailed 25-24 at the half, but the Bulldogs struck for seven straight points midway into the third quarter on five points by Wilson and a layup by M. Pippenger for a 33-27 advantage.
The Red Hawks responded with a free throw by Mara Salvevold and a tough inside shot by Nesbit. The scoring of Jaeleigh Davidson pulled Froid/Lake to 35-34. Another basket by Wilson ended the quarter with Bainville up by a 37-34 score.
After a free throw by Tally Berwick put Bainville ahead 40-36 midway into the fourth quarter, J. Davidson scored again to keep the Red Hawks close. The Bulldogs moved ahead 42-38 when Hailey Berwick scored off a pass from Wilson.
Both defenses held their opponents in check until H. Berwick went coast to coast on a drive to put the Bulldogs ahead 44-38 with 30 seconds remaining. After the Red Hawks missed two threepoint attempts, Wilson added a free throw in the final seconds.
Wilson finished with 24 points to lead the Bulldogs. Also scoring were H. Berwick with eight, T. Berwick with five, M. Pippenger with four, Kendra Romo with two, Addison Hansen with one and Chandi Johnson with one.
Nesbit and Salvevold each scored 11 points for Froid/ Lake. Also scoring were B. Davidson with seven, J. Davidson with six, Avery Johnson with two and Brooklyn Nordwick with one point.
Bainville led 16-12 at the end of the first quarter. Wilson accounted for 12 points in the period.
Pippenger
Bainville's Miah Pippenger drives the baseline during action this season.
(Photo by Bill Vander Weele)