Posted on
Senior Profile Despite Cold, Guzman Enjoys Life In Culbertson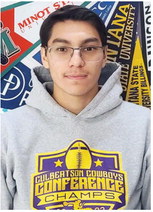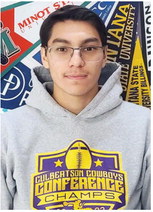 Culbertson High School senior Jesus Guzman, who transferred from Texas, has enjoyed most of his time at his new school. He just wasn't real impressed with the extremely cold temperatures last week.
"I don't know where to start," Guzman said of the weather. "It's very cold. I'm trying to keep warm. I've never been around negative 22 degrees below."
Guzman, who moved to Culbertson in July when his father started working in the area, said his previous experience with cold weather came last February in Texas when the temperature went down to 3 degrees. "It was a real shocker," he noted.
Despite the weather, Guzman said he's very happy in Culbertson. "I like Culbertson. It's calm here. People take care of each other."
Guzman, who played varsity soccer in Texas, kicked off and also kicked extra points for Culbertson's successful football team this fall.
"It was quite an experience. I wanted to try something new," Guzman said. "It was quite an adventure. The team was like a brotherhood."
For senior night, Guzman started for the Cowboys' offense at tight end.
"It was awkward for me, but it was fun," he said.
Guzman is also involved in the school's Business Professionals of America program. His events involve finances and payroll.
"I like the tests. I like to work with money," he noted.
Outside of school, he enjoys riding his go-cart. He has recently been enjoying watching World Cup soccer games.
He doesn't have one particular favorite class. "All of them are my favorites. I like the laughs and joy that are in the classes," Guzman said.
His favorite teacher is Shelly Salvevold. "She's fun. She doesn't make her classes boring," he said.