Posted on
Red Hawks Earn Win Over Dodson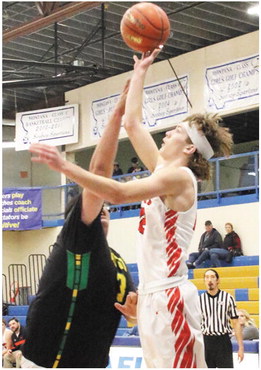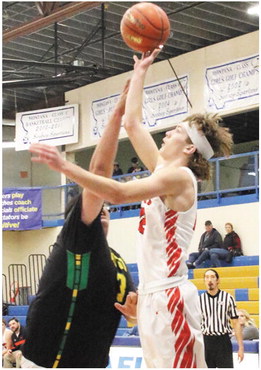 A hot-shooting Froid/Lake team knocked off Dodson, 5940, in boys' basketball action during the Scobey Invitational on Saturday, Dec. 10.
The Red Hawks broke away from an early 2-2 deadlock to take a 10-2 lead on a pair of three-pointers by Patton Bighorn along with a steal and dunk by Mason Dethman.
Another three-pointer by Bighorn and two free throws by Dethman increased the margin to 15-6. Two free tosses by Nate Stentoft put the score at 17-12 to end the opening quarter.
The Red Hawks kept rolling in the second quarter as a three-pointer by Bighorn and a drive by Joey Boyd opened the period.
Ahead by a 22-14 margin, the Red Hawks exploded for the next seven points on a three-point play by Bighorn, a basket off a rebound by Max Engelke and a 15-footer by Dethman.
After a drive by Dodson's Junior Stiffarm, the Red Hawks increased the gap to 35-16 on free throws by Dethman, a hoop by Bighorn and a basket by Engelke off an assist from Dethman.
Three-pointers by Bighorn and Dethman put the halftime score at 41-18.
Froid/Lake then struck for the first 12 points of the third quarter including four points by Engelke, three points by Bighorn, two points by Caden Kelm and a three-point play by Dethman. The Red Hawks led 57-25 at the end of the quarter.
Bighorn finished the game with 23 points to lead the Red Hawks. Dethman added 16 and Engelke tallied 12 points. Also scoring were Boyd with four, C. Kelm with two, Stentoft with two and Landon Kelm with two.
Mikey Jaynes led Dodson with 19 points.
The Red Hawks opened the weekend with a tough 4841 loss against Scobey.
The Red Hawks trailed 20-18 at the half and by a 3026 score entering the fourth quarter.
Top scorers for Froid/Lake were Dethman with 20 and Stentoft with eight.
Also scoring were Bighorn with five, Engelke with four and C. Kelm with four.
Leading Scobey were John Carney with 15 and Boen Tande with 12 points.